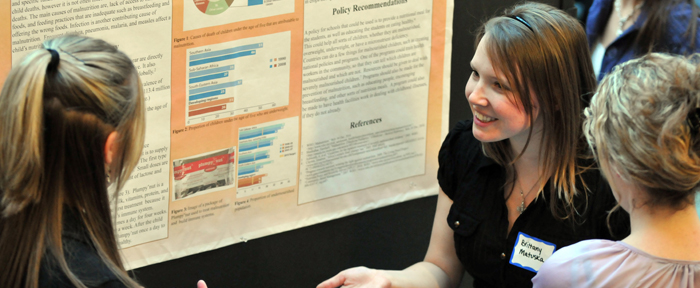 Introduction to Leadership (LP 101, 1 credit hour)                                                                                                                                                            Introduction to the concept of leadership and the traits, values, characteristics, and behaviors that create effective leadership.
Introduction to Leadership II (LP 102, 1 credit hour)                                                                                                                                                                 How different traits, values,characteristics, and behaviors are effective in different contexts such as public office, business,community organizations, and religious institutions.
Experiences in Leadership and Society (AR 340, 1 credit hour)
This course meets throughout the semester to discuss leadership concepts in addition to each student completing a leader shadowing experience in the community. This course focuses on developing an understanding of leadership from an organizational or community perspective. Students are encouraged to observe and interact with leaders outside of class to prepare the student for the complex and practical demands of leading others.
Speech Communication (CO 125, 3 credit hours)
Principles of oral communication; application of theory as it relates to preparation and delivery of speeches. Leadership Scholars students will take this course as a cohort section.
For those students pursuing the Leadership Development minor as well, these classes are recommended:
Contemporary Ethical Problems (PL 310, 3 credit hours)
Some of the most pressing moral problems of today, with special attention to the philosophical issues involved.
Business Ethics (PL 311, 3 credit hours)
Prerequisites: EC 201-202. Application of ethical concepts to significant problems of business practice.