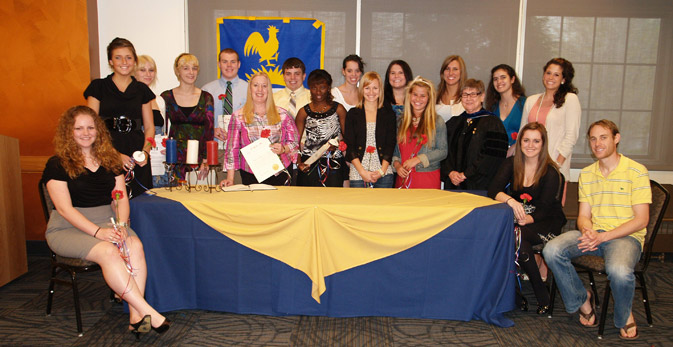 Kappa Eta Chapter
John Carroll University
The French Section of the Department of Classical and Modern Languages and Cultures cordially invites all eligible undergraduate and graduate students to apply for membership in Pi Delta Phi, National French Honor Society, Kappa Eta Chapter, at John Carroll University.
The purpose of this Chapter, among others, is two fold:
To honor those who attain excellence in the study of the French language and in the study of the literature and culture of the French-speaking peoples.
To encourage college and university students to acquire a greater interest in and a deeper understanding of French culture in France and its impact in the French-speaking countries.
Regular membership is open to undergraduate and graduate students who meet the requirements. Associate and Honorary Memberships are also available to Francophiles upon recommendation of the Chapter. Membership applications are available after January 1, and induction ceremonies for the Neophytes are usually scheduled for the spring semester of the academic year.
See photos of the 2015 Induction Ceremonies.
Faculty Moderator:
Martha Pereszlenyi-Pinter, Ph.D. 
216.397.4723
O'Malley Center 124
Honorary & Associate Members at John Carroll University:
Honorary Members:
Professeur Lucien A. Aubé †
Professeur Sarah Iammarino
Professeur James Reed
Founder:
Professeur Hélène N. Sanko
Associate Member:
Members
Initiated in 2007
Kristina Drnjevich
Kate Lawson
Initiated in 2008
Ryan Baker
Michelle Elkadi
Meghann Hartman
Kristine Lee
Aaron Noo
Initiated in 2009
Daryl Anderson
Laura Pinter
Catilin Overdorf
Jonathan Sauline
Initiated in 2010
Hélène Andang
Jenna Bartusiak
Megan Broaddrich
Emily Cassidy
Gillian Calig
William F. Cook
Hallie E. Fetterman
Alyssa M. Fligge
Alyssa Harr
Allison Hibbard
Grace Kmiecik
Adele Koury
Katherine O'Meara
Kathleen M. O'Neil
Colleen Standard
Natalie Talis
Ken Tubbs
Initiated in 2011 (N/A)
Initiated in 2012
Grace-Sephora Fadiga
Megan M. Jones (grad student)
Peter McNamara
Megan E. Mulligan
Gabrielle Ruchames
Aimé Szymanski
Initiated in 2013
Initiated in 2014
Sharin Azadi
Lauren M. Blommel
Natasha K. Corrigan
Lauren E. Crawford
Tyrell B. Davis
Anthony W. DeFelice
Peter F. Hopkins
Victoria E. Hume
Catherine M. Taylor
Ellen M. Ulinski
Nickencia M. Weaver
Initiated in 2015
Alexander R. Berry
Natalie E. Hanna
Arnold Paskay
Initiated in 2016
Rose M. Dolan
Benjamin G. Gebhardt
Ashley A. Johenning
Brook McQuinn
Paulina Peña
Initiated in 2017
(induction ceremony will take place on  April 26, 2017.)
Rebecca Reicholf
Leila Jugo
Olivia Pach
Saida Gjinatori