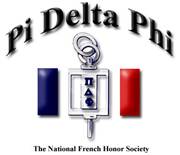 John Carroll University's Kappa Eta Chapter of the National French Honor Society, Pi Delta Phi, is now accepting applications from prospective regular members.
Pi Delta Phi was founded as a departmental honor society at the University of California, Berkeley, in 1906. After 20 years as a local chapter, Pi Delta Phi declared itself the National French Honor Society and chartered the Beta Chapter at the University of Southern California in 1925. The Society was admitted to membership in the Association of College Honor Societies in 1967. At the present time, it numbers more than 330 Chapters established at representative public and private colleges and universities in almost every state, as well as two representative chapters at the American Universities in Paris and Aix-en-Provence in France. The official publication of Pi Delta Phi is "The Newsletter." Visit Pi Delta Phi's national website.
From the Constitution:
ARTICLE II PURPOSE
The purpose of this society shall be (1) to recognize outstanding scholarship in the French language and its literature; (2) to increase the knowledge and appreciation of Americans for the cultural contributions of the French-speaking world; (3) to stimulate and encourage French cultural activities.
ARTICLE III MOTTO 
The motto of this society is: Probaínomen Diakritoi Philogálatoi which means "Avançons, amis fidèles de la culture française."
MEMBERSHIP INFORMATION
There are two categories of membership: regular and honorary.
Regular members include graduate and undergraduate students who shall be nominated in recognition of their academic achievement in at least one semester or quarter of upper division French, with a minimum GPA of 3.00 in French. Graduate students who are candidates for an advanced degree in French are eligible for regular membership.
Honorary members include: the French faculty of the sponsoring institution; members of the faculty at large, diplomats and community leaders who have shown a strong support of French cultures.
---
Upon payment of National Dues, each member receives the official pin and a certificate, indicating lifetime membership in the organization.
The induction ceremony for 2017 will take place on Wednesday, April 26, 2017.
If interested in applying, please fill out the application form and give it to your French instructor, or contact Martha Pereszlenyi-Pinter, Ph.D., department chairperson, OC 133, 216.397.4723, or notify the Language Department Secretary, Elssy Lawrence, OC 134, 216.397.4371.
---
Dear French students,
Membership in a college honor society is truly an "honor" that you may include in your future job resumés and other aspects of your life! Some additional advantages include the Pi Delta Phi free listserve which allows members to stay informed about the society and to share related information. Also, all members are now invited to join the new Pi Delta Phi Group on Facebook®. Membership also gives you application eligibility for the Joseph W. Jedlicka Awards, in recognition of superior achievement in the study of the French Language and Literature. There are several Jedlicka awards, among which are:
Full tuition summer session scholarship awarded by The American University of Paris, France.
Full tuition summer scholarship to Avignon awarded by The Institute of American Universities.
Full tuition scholarship partially funded by the National Dean's List with Pi Delta Pi.
The French section at JCU encourages you to join the JCU chapter of Pi Delta Phi – Kappa Eta Chapter!