Theta Omega Chapter
John Carroll University
The purposes of Eta Sigma Phi are to develop and promote interest in classical study among students of colleges and universities; to promote closer fraternal relationship among students who are interested in classical study, and to stimulate interest in classical study, and in the history, art, and literature of ancient Greece and Rome. The national organization sponsors an annual convention, scholarships for summer travel and teacher training, and translation exams.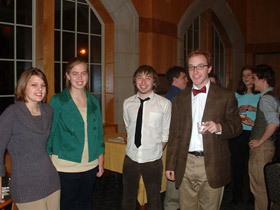 John Carroll established its chapter in 2009, with an induction of 15 students. We are proud to report that already our students are earning national distinction. Patrick Neff '10 won two prizes in the 2009 national translation contest: 3rd place in Koine Greek and Honorable Mention in Latin prose composition. Adam Foley '11 won 2nd prize in Advanced Greek in the 2010 competition.
Our chapter of Eta Sigma Phi functions also as a Classics club, sponsoring events for classics students during the school year.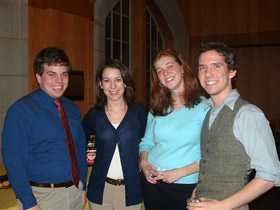 Advisor: Kristen Ehrhardt, Ph.D.
kehrhardt@jcu.edu
Prytanis (President): Christopher Razek
Chrysophylax (Treasurer): Christopher Wetherill