The JUHAN 2015 Conference will be held from June 9-12, 2015, at John Carroll University.  The payment to attend the conference consists of a Conference Fee and Lodging Fee as described below and can be submitted by clicking here: JUHAN 2015 Conference Registration Form.
Conference Fee
$250 Faculty/Administrator/Other ($225 before April 15)
$150 Student ($125 before April 15)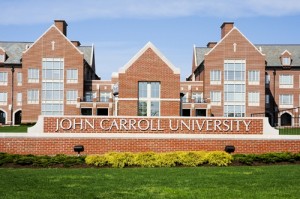 The conference fee of $250 for Faculty and Administrators and $150 for Students includes three breakfasts, three lunches, and three dinners.  The first day of the conference, June 9, will feature an opening reception and welcome dinner, both in the evening.  A $25 discount is available for registration before April 15.
Lodging Fee
$60 per night, single room
$50 per night, double room
$14 linen charge per stay (includes bedding, towels and washcloths)
Guests for the conference will be housed in Murphy Hall, a 1964 building on the John Carroll campus that has recently been fully renovated and LEED-certified.  The building is air conditioned with WiFi availability to all guests.  Single rooms in the dormitory may stand alone or be located within a three or four bedroom suite.  Many single rooms and all double rooms share a common bathroom facility located in an adjacent hallway. Therefore, guests may want to bring shower shoes and a container for toiletries. Murphy Hall also contains accessible rooms, which can be requested on the registration form.  Rooms will be assigned on a first come, first serve basis determined by the date of registration. Guests may choose to stay for any combination of three nights from June 9-11.
If you prefer other accommodations or would like to extend your stay in the Cleveland area, please click here for information on hotels.