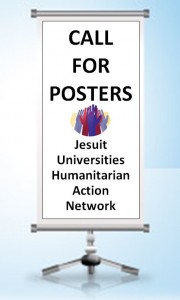 JUHAN 2015 CONFERENCE

"ENDING ENDURING HUMAN SUFFERING"
JUNE 9-12, 2015
The Program Committee of the JUHAN 2015 Conference is pleased to announce that a poster session has been added to the conference. We are calling for posters that offer original research, policy analysis, or promising programmatic interventions to reduce human suffering. All poster presenters will be provided with a table to showcase their work as part of a gallery session on Wednesday evening, June 10. Posters from students are especially welcome.
The deadline for submission of a poster proposal is May 20, 2015. Please submit proposals to Julie Mughal, Fairfield University's JUHAN Director, at jmughal@fairfield.edu. Applicants will be notified of acceptance by May 22, 2015.
JUHAN was created to increase the effectiveness of efforts by Jesuit universities to respond to humanitarian crisis in the US and throughout the world. The principal focus of JUHAN is to advance undergraduate humanitarian education and the professional field of humanitarian action. JUHAN hopes to expose students to these areas through academic courses, student leadership workshops, and notable plenary speakers in areas of social justice and international human rights. The 2015 conference will be the 4th  JUHAN Conference designed to address humanitarian concerns.
——- ——- ——– ——- —— —— —– ——- ——– ——- —— ——
Developing and Submitting a Proposal
Develop a poster describing your action, experience or project. Individuals or teams may want to showcase a research project, a JUHAN course, an alternative spring break trip, etc.
The deadline for Poster Proposals is May 20. Please email the answers to the following questions to jmughal@fairfield.edu to be considered.
? Name, title, institution, and email address of each team member
? Poster title
? Brief abstract to be used in the conference program if accepted (100 words)
? Background and description of work, including how the poster relates to the conference theme, "Ending Enduring Human Suffering." (150 word limit)