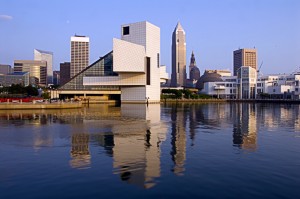 While Cleveland is most often known as the home to the Rock and Roll Hall of Fame and Museum, there is so much more to our city.  Cleveland boasts one of the country's most saturated square miles of art and culture in its famous University Circle. There you can discover the Cleveland Museum of Art, ranked among the top ten museums in the nation, as well as the Museum of Natural History and the Cleveland Botanical Garden.
Our theater district, Playhouse Square, is the nation's second largest theater district after Broadway in New York City. Alternatively, consider taking in an orchestra concert at Severance Hall, home of the world-renowned Cleveland Orchestra.
Cleveland is crazy about its professional sports teams and is one of only a number of cities in the nation proud to host three major league sports teams.  We follow our teams with a passion that is unrivaled in any other city.  Go ahead, take in a Cleveland Indians baseball game at Progressive Field, located in the Gateway District of downtown Cleveland.
Cleveland boasts a vibrant nightlife that extends from the historic Warehouse District in downtown Cleveland to Little Italy, just minutes away from JCU.  Also located in the general vicinity of the university are Beachwood Place, Legacy Village and Eton, which provide a wide variety of shops and dining options. For a more eclectic experience, then one of our historic neighborhoods such as Coventry Village or Tremont is worth a trip.  If you want to see a National Historic Place featured on the Travel Channel or Food Network, then look no farther than the West Side Market in Ohio City.
The Cleveland MetroParks system is a beautiful and diverse network of 16 reservations across 22,000 acres, offering hundreds of miles of walking and bicycle trails, parks, picnic areas, five nature education centers, seven golf courses, and abundant fishing holes.  It is also known as the "Emerald Necklace," because the park system forms a nearly complete ring around the Cleveland-area communities and Lake Erie.
RTA provides transportation throughout the Cleveland area.  With more than 100 bus routes and four rapid transit rail routes, the RTA can get you most places you'd like to go at a reasonable price.  Nearby rapid transit trains connect with the downtown area and Cleveland Hopkins airport.  Bus service connects University Heights with the rest of Cleveland.
Get to know Cleveland by visiting Cleveland.com for all the latest news and information on our city.  You'll discover that it is never a challenge to find something that you love to do in Cleveland or any of its neighborhoods.