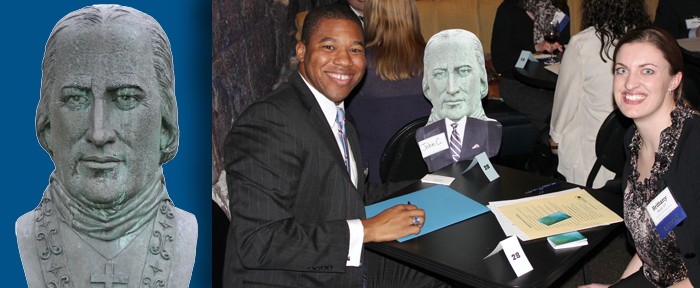 The relationship between student and university does not end at graduation.  This is especially true at John Carroll University.  Our alumni enter into a lifelong relationship the moment they step foot onto our picturesque campus and stroll across The Quad. Who is watching over you on The Quad? None other than our namesake John Carroll. Just as he is a reminder to our current students coming and going on campus, so too is he a reminder to our alumni of the lifelong commitment and relationship with our beloved alma mater.
The Office of Alumni Relations is launching a new campaign to Take John Carroll with You.  Take a picture with "The Head" at a local attraction, friend's wedding, vacation destination or alumni event and submit it to us. One lucky photo will be featured in each upcoming issue of Onward, the new electronic alumni newsletter.  
We invite you to be creative, have fun and Take John Carroll With You!
---
How to Submit Your Photo
Entries may be digital images or print. Please read the specific guidelines for submitting prints and digital images.
Digital Images: Digital images should be submitted using the online entry form. Images should be formatted to 72 dpi, no larger than 600 by 450 pixels and no smaller than 300 by 225 pixels. Images should be submitted in JPG (at high quality) format. File sizes must be less than 500K per image. Digital images will not be returned.
Prints/Hard Copy Photos: Prints can be mailed.  They must be 4 x 6 inches or larger. Do not send negatives. Attach a label to the back of each print with your name, class year, address and phone number.  Do not write on the photo itself. If submitting multiple photos, affix label to each photo. Photos, regardless of the medium, will not be returned and become the property of John Carroll University. Please do not send your only copy of a photo.
Mail prints along with entry form to:
Office of Alumni Relations
John Carroll University
1 John Carroll Blvd.
University Heights, OH 44118
Your submission of the photo and entry form is your guarantee that you are the author and copyright holder of the photo. Anonymous submissions will not be posted.
Image Size & Format
Submissions must be in JPEG (.jpg or .jpeg) digital format, at least 1,600 pixels on the longest side, and no greater than 2MB in file size.
Photo Subject Restrictions
Photos must be appropriate for posting on a public University website. Obscene, provocative or otherwise questionable content will not be considered. Entries will be approved for posting by the Office of Alumni Relations or their designee. John Carroll University retains sole discretion as to what constitutes inappropriate content.