At John Carroll, we truly have a global vision and we welcome students from different backgrounds and cultures.  Our university mission is to inspire individuals to excel in learning, leadership, and service across the globe, so we are thrilled to have a growing international student community.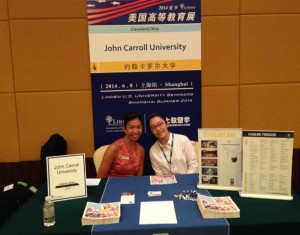 John Carroll University has been consistently traveling around the world sharing its story and searching for talented international students to join the JCU family.  Where are we traveling?  Countries visited include China, Ecuador, Greece, Honduras, India, Malaysia, South Korea, United Kingdom and Vietnam just to name a few.
Spring 2016 Travel Schedule:
Bogota, Colombia – February 18-21
Jakarta, Indonesia – February 20-23
Medan, Indonesia – February 24-25
Singapore, Singapore – February 26-28
Bandar Seri Begawan, Brunei – February 29-March 03
Hanoi, Vietnam – March 05-07
Danang, Vietnam – March 08-09
Nha Trang, Vietnam – March 10-11
Ho Chi Minh City, Vietnam – March 12-13
Madrid, Spain – March 13-14
London, England – March 15-16
Dublin, Ireland – March 17-21
If we are not visiting your country and you have questions, we would be happy to connect with you via email, phone, or Skype.
For updated information about where and when we are traveling, check out our international calendar!