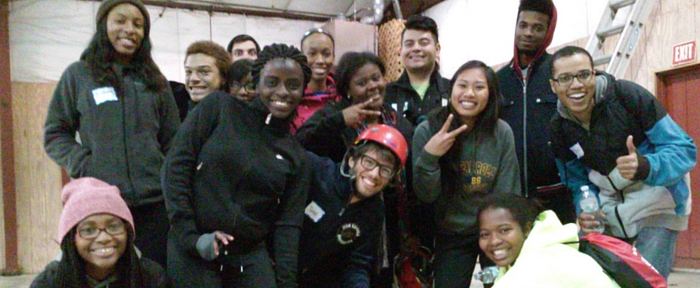 African American Alliance | Wednesdays, starting 1.20.16 | 7p | Murphy Hall Conference Room
The purpose of African American Alliance,is to promote the recognition and involvement of African American students, students of African descent and students of other ethnicities at John Carroll University. The organization holds the intention of creating a strong voice on campus and to make an impact on the decisions regarding students of the JCU Community.    
African Dounia | Tuesdays | 6:30p | Murphy Room 
The purpose of African Dounia seeks to promote the African continent, and its beautiful cultures and traditions.  
Agia Sophia | Thursdays | 5p | B272 | Start Date TBD
This cultural group aims to promote Hellenic history, traditions, and culture throughout the campus of John Carroll University with the ultimate purpose of engaging and informing.  It also aims at bringing the members of the group closer to their Hellenic (Greek/Grecian) heritage and roots.  This group is not connected to Fraternity and Sorority Life.   
Allies | Wednesdays, starting 1.27.16 | 8p | CSDI Lounge 
Allies is a group of LGBTQ persons and their supporters. We believe in the freedom and equality of all individuals and work to promote this in our daily lives.   
Hillel@JCU  | Meeting date, time, location TBD
Supporting Jewish students in the expression of their identity and providing opportunities for non-Jewish students to enhance their understanding of the Jewish world.   
JCU Gospel Choir | Wednesdays | 5p-6:15p | Idlewood Room 
JCU Gospel Choir's mission is to encourage, uplift, and inspire others by spreading the word of God through song.  They aim to bring a message of faith, hope, joy, and love to not only John Carroll, but also its communities.  Their goal is to reach out and provide a place of support for those who many not know Jesus Christ.  They incorporate their core principles of compassion, unity, and leadership by ministering through song in hopes to encourage those around them.  
Latin American Student Association (LASA) | Tuesdays | 7p | CSDI Lounge
The primary purpose of LASA is to provide the opportunity for students of Latin American heritage and their friends to meet on a regular basis, organize activities, and increase the number of Latin American students on campus and the awareness of our presence and value to the University at large.    
Le Cercle Francais (French Club) | Tuesdays: Bi-weekly (11/10,  11/24, and 12/1) | 8p | CSDI Lounge 
This organization was created to give students who are interested in the French language and French culture a place to get involved and learn more about the subject and interact with others who also have an interest in the French Culture. It was also created to give students who want to get involved more on campus a place where they could come up with their ideas, be listen to, make new friends and have a positive semester on campus. The Organization tries to get more involved on campus by having activities such a Mardi Gras dance or Christmas get together where every JCU students and their can come to. Le Cercle Francais was also created to bring a sense of community with each JCU students.    
Middle Eastern Student Association (MESA) | Meeting date, time, location TBD
The purpose of the Middle Eastern Student Association (M.E.S.A.) of John Carroll University shall be to promote cultural, social, and educational activities in order to establish a greater awareness of the Middle East in the John Carroll community, as well as bringing students of all cultures together as an organization.   
Muslim Student Society (MSS) | Friday Prayer | 2p | Interfaith Prayer Room