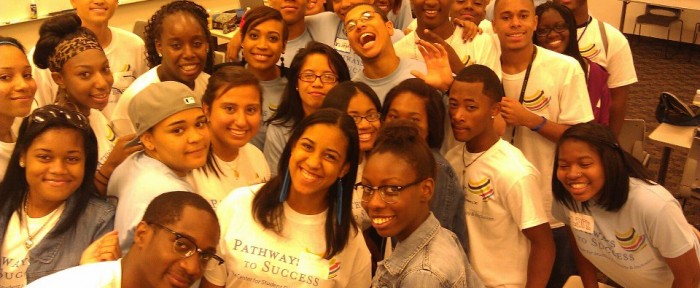 "Thanks for giving me a great jump start to college! It was great, I really enjoyed it and I appreciate everyone who took the time out to make it happen. Thanks again!"
PROGRAM OVERVIEW
Since 2006, all incoming students from historically underrepresented backgrounds have participated in Pathways. We especially invite students who are first in their families to attend college, students who identify as LGBTQ, and students from underrepresented racial and ethnic backgrounds.
Residential and commuter students are welcome to apply. There are no costs to participate but students must register before Monday, August 10,2015.
LEARNING GOALS
Students recognize themselves as cultural student scholars.
Students develop three (3) academic and social goals for their first year.
Students apply and practice interpersonal communication skills with peers and mentors.
Students distinguish and self-advocate using key campus resources.
STUDENT BENEFITS
Having fun with peers!
Early move-in for on-campus residents on Monday, August 24, 2015 before 4:00 PM.
Learning about campus life from mentors who will show you the ropes.
Bonding with other incoming students; some which become your best friends!
Connecting 1-on-1 with current students from diverse backgrounds and majors.
Meeting with important faculty and staff.
Parents: 91.7% of Pathways students come back for their sophomore year.