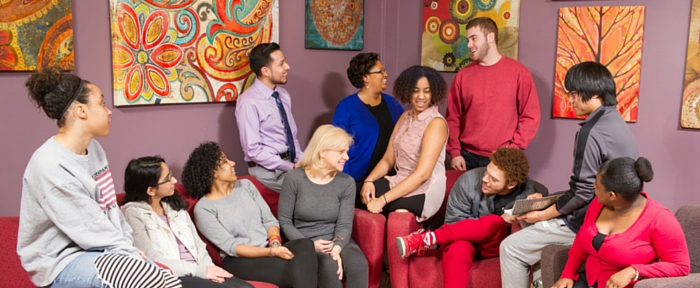 Salomon Rodezno, M.Ed.
 Assistant Director | srodezno@jcu.edu | 216.397.1583
Salomon is Assistant Director of the Center and has been at JCU since 2011.   He supports students on a 1:1 basis and advises all cultural student organizations.  Salomon develops programs, workshops, and presentations and he teaches AR 197 (Experiential College- Film in Cleveland), AR 199 (Intergroup Dialogue- Finding Common Ground), and AR 120 (Purpose and Place: Exploring Campus Community and Self).  Lastly, he actively serves as a Hearing Officer in the University Hearing Board and the Sexual Harassment Board.
Salomon's M.Ed. is in Higher Education and Student Affairs Administration from the University of Vermont, his B.A. in Visual Arts from the University of California San Diego, and he is a graduate of the Social Justice Training Institute.  Salomon is currently serves as Secretary for the Ohio Consortium of Multicultural Centers in Higher Education.
 Carol Link, M.A.
 Admin. Assistant | clink@jcu.edu | 216.397.4185
Carol has had a great time working in the Center.  She is beginning her fifth year at JCU and can't tell you what an enriching experience it has been!  The students coming to the Center are kind, friendly, passionate in their beliefs and opinions and always willing to go the extra mile.  Needless to say, there is never a dull moment at the Center!  Carol is excited to be working with our dedicated CSDI staff and assists the students visiting the Center in any way she can.
She is a University of California Los Angeles (Go Bruins!) graduate and holds a Bachelor's Degree in History.  She completed her Master's Degree in Clinical Mental Health Counseling at JCU in 2016.  She is a mom of three children — two just out of college and her third starting his junior year. She is a native of Ohio: having been in the Cleveland area for the past 15 years.
STUDENT STAFF
Gabrielle-Douglas Hinchen, Class of 2017
Gabby-Douglas is a double major in Psychology and Women and Gender Studies with a minor in Statistics. Gabby-Douglas intends to have a career as a Sex Therapist/Researcher. Fun fact: "I am a Transgender Bi-Sexual magical human who believes in the concept of universal love."

Wanda Rosario, Class of 2017
Wanda is majoring in Communications with an Integrated Marketing Track. She aspires to work in corporate or small business as a marketing communications manager or a digital media specialist. Fun fact: Wanda has played the drums or anything percussion related for over 12 years.

Brittany Kincaid, Class of 2018
Brittany is majoring in Exercise Science and aspires to be an Athletic and Personal Trainer. Her campus involvement includes Campus Crusade for Christ (Cru) , AAA, and being part of the Interfaith panel.
Emmanuel (Mannie) Brown, Class of 2019
Mannie is majoring in Women and Gender Studies with a minor in Communications.  He aspires to work the field of Student Affairs. Fun fact: Helped create a diversity retreat for a cultural organization on campus.
Zakiyyah Malik, Class of 2019
Zakiyyah is majoring in Biology with an aspiring career path in Dentistry or Radiology.  Her campus involvement includes serving as the Secretary of the African American Alliance, being a member of Latin American Student Association,and being a member of the Muslim Student Society. Fun Fact: her full name is Arabic and "Zakiyyah" means intelligent.