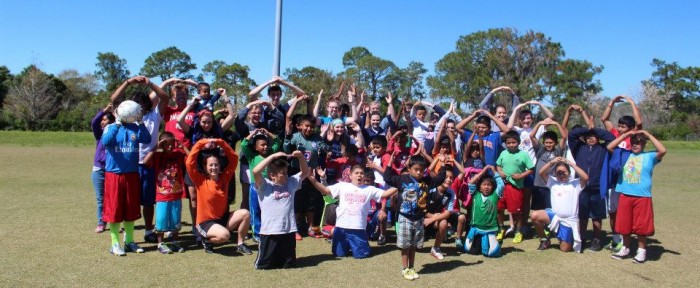 Post-trip reflection is an integral part of the immersion program experience. It allows students to consider how their own worldviews have been challenged, and take what they have learned and the way their hearts have been changed and translate these experiences into meaningful action. Below, explore written reflections from students and other post-trip actions taken by immersion participants.
"On my immersion trip to Nicaragua in January of 2014, I was able to begin the process of understanding the part of our mission statement about "solidarity."  Our host mother in Managua taught her one and a half year old nephew, Lester, to call another immersion participant and I "tia," meaning aunt. She had been breaking off little strips of tortilla to feed Lester, and when he toddled expectantly over to me, she nodded an invitation for me to do the same. As I tore the plain but warm tortilla to place in his tiny hand, I had an overwhelming sense that we were sharing in something sacred, something life-bearing and infinitely greater than language, geography, finance, culture, and everything else society uses to tell us we can't truly be one family. And in that moment, I was Lester's aunt.

Solidarity is breaking bread together under the same roof – often bread in the form of tortillas." Kateri Dillon, '16

"As a staff member, I am repeatedly impressed with the students who truly embrace the JCU mission, and I wanted to do something beyond my daily routine that engrossed me in the JCU mission as well. I now have images and memories that have left indelible imprints on my soul. My faith–both in God and the work I do at JCU–grew immensely because of the immersion experience I was able to join. My proverbial JCU "family" greatly expanded after chaperoning the Immokalee trip. Upon returning to Cleveland, the impact of the immersion was apparent in our group. Within days, we'd made plans to sustain some of the efforts we'd implemented while on the immersion. Immersions allow us the opportunity to take a step outside of our comfort zones in our work and personal lives, and feel the love, pain, and social justice issues that others endure. Immersion trips are not lengthy investments as far as time, but the depth of impact of the immersion experience is one I will forever cherish. I was given a chance to truly "live the mission" during my immersion trip, and successfully, the trip has become a keystone on my list of major life milestones." Megan Dzurec, Coordinator of Health Education and Promotion
"The simple truth of JCU Immersions: they are eye-opening, life-changing weeks that indulge you in communal, service-based living, while breathing in God's spirit in all that you do!" Courtney Farver, Director Recreation and Intramurals 
"CRISPAZ [Christians for Peace in El Salvador] gave me the opportunity to visit a place I never would have imagined and to experience it in a way I never could have dreamed. I learned to build a community within the known of those I traveled with along with the unknown people of El Salvador. CRISPAZ pushed me out of my comfort zone by allowing me to, quite literally, experience life in someone else's shoes." Nina Garcia-Wasnich, '15. Read Nina's full blog post here.

"I originally thought of this poem during a Festival of Praise back in December. It was a pretty crazy moment… in the silence, these words just started popping into my head. I wasn't really sure where they were coming from, but the next day I sat down to compose them into writing. They flowed easily and quickly… and afterwards I was pretty convinced they were words from God, not myself. Months later, I sat down during the middle of our trip in Immokalee and started reading through my journal. I came across this poem, and was absolutely speechless. I felt as if I was reading something I had never read before, but more so, the words fit my experience perfectly." Danielle Goddard '15. Read the full poem here.
Check out the poem below, written collaboratively by the group that traveled to Ecuador in May 2014.