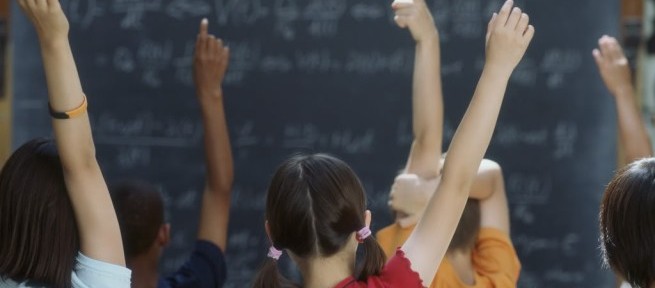 How does IER work?
IER recognizes that each school has unique needs. IER consultants work as external partners with principals, teachers and parents to promote school-wide activities that lead to achieving shared goals. IER plans work in each school using a variety of approaches and activities: courses, study groups, grade level and department collaboration, individual classroom support, and parent study groups.
How is IER different from other school-change initiatives?
IER differs from other school change initiatives in three key ways. First, the IER model is a comprehensive approach that addresses the complex factors that inhibit school improvement: leadership, school culture, as well as teaching and learning. Teachers and administrators work together to build and sustain a culture of continuous improvement that leads to high levels of achievement for all students. Second, IER responds to the needs of the individual teachers and the school while bringing sound, research-based principles to bear on the particular issues within each school. Third, IER provides on-site, sustained, long-term support for individual teachers as well as teams within schools and districts to implement practices that will lead to high levels of professionalism and foster a culture of continuous learning.
How does IER respond to the individual needs of each school?
IER consultants work on-site with educators to develop a program that addresses the unique needs of each teacher, school and district. IER offers a unique blend of research-based study, support for practical implementation, and guidance for creating new organizational structures within individual schools. While specific needs will differ, in all cases IER's program is grounded in three key components: collaborative leadership, effective teaching and learning, and positive school culture. 
How does IER balance the long-term goals of a school with short-term (NCLB) needs?
IER recognizes that great schools occur only when teachers move from working in isolation to collaboration while maintaining an unwavering focus on effective teaching and learning and positive school culture. Long-term excellence is achieved when educators work together in teacher networks, study groups, and action research teams, to address school-wide issues and concerns. Consensus about the school's goals and responsibilities and the means for achieving success are shared school-wide. Teachers know and understand the leadership roles they can assume in the school. Together, the school-wide community implements an organized structure for achieving long-term goals of excellence.
Short-term impact is achieved by maintaining a strong focus on student work. Teachers collaborate to implement mini-learning cycles that provide a framework for reflection on teaching and learning. Working at grade levels, teams identify essential standards or skills (linked to NCLB mandates), create common assessments, and develop interventions for the students who haven't mastered the essential skills. Once essential skills at grade levels have been identified, teachers in one grade level work with teachers in other grade levels to align the school's curriculum. This focus on short-term gains, has a significant impact on long-term excellence.
How have you worked/are you working with the Cleveland Municipal School District (CMSD)?
IER began working within individual CMSD schools in 1991. Our work with CMSD has evolved as needs, mandates, and leadership within the district have changed. Some of the professional development activities in which IER has been involved include:
IER provided comprehensive, school-based professional development for many CMSD schools from 1991 to 2005.
IER partnered with CMSD to work directly with English Language Arts professional developers in schools jointly selected by IER and CMSD during 2002-2003.
The IER board funded work in four CMSD schools that had a commitment to professionalism, positive growth, and continuous improvement during the 2004-2005 school year.
Several IER consultants supported a CMSD partnership with the Institute for Learning in Pittsburgh to train school-based English language arts professional developers to become effective peer coaches and to implement the Cleveland Literacy System (CLS) from 2003-2005.
IER managed The Cleveland Schools Book Fund (CSBF), a component fund of The Cleveland Foundation from 2004-2007. The purpose of the CSBF is to improve the literacy of students in pre-kindergarten through third grade in Cleveland schools by providing classroom libraries of quality children's literature. IER developed and coordinated book selection, distribution, professional development, and evaluation for the CSBF program. During the 2006-2007 school year include approximately 13,450 Cleveland students had access to 66,747 books in 538 classrooms in 49 CMSD schools.
The IER Leadership Network launched in 2005 to work with principals, teachers, students, and parents in select CMSD schools to foster professional learning communities that promote a culture of learning. This work continued off-site as part of the developing IER Leadership Network and provided ongoing Network meetings focusing on the unique challenges of teaching and learning in K-8 schools and featuring a book discussion on developing teacher-leaders within schools, a cross-districts course in teaching and learning with young adolescents, and support for parent literacy group participants.
How have you worked/are you working with school districts within the First-Ring communities?
IER began working with principals and teachers in the Euclid elementary schools during the 2004-2005 school year.  The vision for the partnership between IER and Euclid is:
To create great schools in Euclid by fostering school-wide commitment to collaborative leadership, effective teaching and learning, and positive school culture.
Close the achievement gap through implementing comprehensive literacy in a developmentally and culturally responsive environment.
IER consultants are providing on-site professional development, classroom modeling, and grade-level facilitation for all seven elementary schools. During the 2006-07 school year, the Euclid City School Board adopted IER's Comprehensive Literacy Framework for use by all elementary school teachers.
During the 2006-2007 school year, IER consultants began on-site support in the upper elementary and middle school in the Warrensville Heights School District. Consultants worked with teachers and principals within the schools and focused literacy strategies appropriate for young adolescent learners. At the district level, IER facilitated a monthly principals' meeting for all seven of the principals within the district around principles of professional learning communities. During the 2007-2008 school year, IER will began working in all three elementary schools and supporting literacy projects in the high school.
How do schools/districts remain connected to IER once their on-site partnership has been completed?
IER established a Network in the fall of 2004. Initially focused on the challenges of teaching and learning within five K-8 schools in the Cleveland Municipal School District, the IER Network has expanded to include other school-based professionals and parents.
Through its Network, IER continues "to provide a forum for teachers, principals, and others within the school community to discuss effective practices for shared leadership, to develop action plans for addressing current challenges their schools are facing, and to continually renew themselves personally and professionally." By bringing colleagues together across school districts in an ongoing program of workshops, seminars, conferences, and other professional development activities, the Network continues to develop and sustain "leading learners" and foster collaboration within and across school districts in the Greater Cleveland area.
Previous Network activities, usually grant-funded and of little or no cost to the participant, have included the following:
A three-day Summer Institute on Strengthening Leadership Skills.
Support for parent literacy groups meeting regularly within IER schools.
A cross-districts study group on the young adolescent learner.
A literacy event for parents, children, and teachers focusing on the Underground Railroad and one local author's walk across Ohio.
An event addressing bullying in the schools, attended by teachers, administrators, and parents.