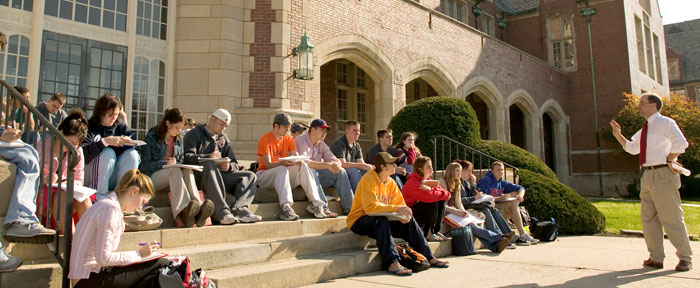 NEW ANNOUNCEMENT (8/5/2014): We have set the date for Honors Community Day! Please plan to join us for lunch on Sunday, August 31st at noon, and stick around for the afternoon for our Honors New Student Orientation. Watch your email for more details!


Congratulations and Welcome to the Honors Program Class of 2018! 
Through your acceptance to the Honors Program, you join a community of students characterized by a love of learning, a passion for intellectual exchange, and a spirit of academic inquiry. We are glad to have you join us, and we look forward to experiencing your unique contributions to this academic community.
The following is information you may need as a new Honors student.  Please review it carefully and follow the links as needed for more information.
Table of Contents:
The Honors Program at New Student Orientation
New Student Orientation sessions are offered on the following dates this summer:
Session 1 – June 3/4
Session 2 – June 9/10
Session 3 – June 16/17
Session 4 – June 19/20
Session 5 – June 23/24
Session 6 – June 26/27
Session 7 – June 30/July1
Session 8 – August 25/26
Honors Program students are encouraged to register for as early a session as possible. 
You can register for a session by clicking here: http://sites.jcu.edu/orientation/pages/registration/.
There are several points during NSO when you will be able to meet representatives of the Honors Program.

Dr. Julia Karolle-Berg, Honors Program director, will join you for dinner for the first evening of NSO, to get to know you and your families, to provide you some suggestions for course selection, and to answer any outstanding questions you might have about the Honors Program.
Ms. Megan Wilson-Reitz, the Honors Program Assistant, will be available during lunch on the second day of NSO to help answer any remaining questions before you register for your fall classes.
Honors Program Housing
An Honors floor is available for Honors students and their roommates.  While you are not required to choose Honors housing, we encourage the Honors community to do so!
Please follow the steps to sign up for housing which you received in your transition packet: In your MyHousing application, you must first accept your housing contract, then complete your preferences.  It is in this area that you will be asked your hall and floor preference.  Please mark "Honors floor" if you prefer this environment. If you are selecting a specific roommate, please make sure that he or she also identifies the preference to live on the Honors floor so you can be matched as roommates.
For further information about the Honors floor and residence life, click here:http://sites.jcu.edu/reslife/pages/incoming-students/specialty-housing/
General Suggestions for Course Registration
A full database of course listings for fall semester, 2014 can be found here: https://web4.jcu.edu/pjcu/szqrterm.P_DispClassChoice?term=201430. At this link, you can view all Honors-designated courses as well as listings by department.
Some general guidelines for thinking about classes include:
First-year Honors students should plan to enroll in 15 or 16 hours their first semester. Most courses are three credit hours, which translates into five or six courses, although students with a heavy science coursework may have only four courses given that several science and math courses are more than three credit hours.
All incoming students are assigned an advising cohort and enrolled in the non-credit course AR 101: Advisory. As an Honors Program student, you will be assigned to an Honors advising cohort largely composed of other honors students in similar disciplines to your own.
All incoming first-year students are required to take First Year Seminar in the fall.  You will be receiving more information on thematic choices of the FYS learning communities at orientation.
English composition is almost always a part of the first semester schedule, unless you have AP or IB credit.  There are three levels of first semester composition.  Your level will be determined by placement by the English Department.
The JCU language requirement is one year at your level of placement, unless you have an AP score that permits waiver.  If you are planning to continue a foreign language, it is generally a good idea to do so your first semester.  Your placement will be determined the first day of orientation; you must continue a language at the level at which you have been placed.
Students interested in pre-health majors should plan on enrolling in both Biology 155/157 and Chemistry 141/143.  Honors sections of both courses are available and Honors students are encouraged to enroll in them. Students with a strong background in chemistry (two years of high school chemistry) who have done well in math may be able to take the Honors section of Chemistry Principles (CH 151).  This course completes the first-year chemistry course in one semester.
Some students may wish to take Math 135H (Honors calculus).  The Math Department determines a placement for calculus.  Note that calculus is required for some majors, but not all.  If it is not required for a major in which you might be interested, you may take any other 100-level Math course to satisfy the Math core requirement. You should consider Math 200, Explorations in Mathematics, if you have a good background in mathematics or are considering math as a major.
Students interested in a business major should take Math 130 – Applied Calculus – and Economics 201 in the fall if their schedules (and course availability allows).  Please note that students may also substitute MT 135 (either the class or AP, post-secondary credits) for MT 130.  Students are also encouraged to enroll in the 1-credit courses in Microsoft Office use (BI 107/108/109) in either the fall or spring semesters.
Students interested in education (whether as a major or for licensure) should take ED 100 or ED 186.
Transferring AP Credits

Many incoming Honors Program students have credit from AP, IB, PSEO or other college-level courses taken in high school. If this is the case, be sure to communicate this to your advisor.  AP tests taken this year have not been scored yet, so you may have to be 'overscheduled' to accommodate your needs whether or not you earn AP credit.  For example, if AP credit in English is possible, but you don't yet know your score, you can be scheduled for the normal English composition course plus a literature course that requires English composition as a prerequisite.  If you earn the AP credit, you will be dropped from the composition course.  Alternately, if you don't earn the AP credit, you will be dropped from the literature class.  If you do earn AP credit for a course, it appears on your transcript as transfer credit, without a grade, and satisfies JCU requirements.
It can be difficult to navigate the competing requirements of academic programs (such as the Honors Program, Arrupe Program, and/or Leadership Program), a major or minor program, and the core curriculum, while also attempting to schedule around possible AP, IB or Post-secondary transfer credits. Don't worry! We are here to help. If you have questions about scheduling Honors classes around these other requirements, contact the Honors Program at the contact information listed here. We can work with you to help you understand your scheduling options.
If you have additional questions at all about your fall schedule, either before or after you register for classes, the best person to ask is Dr. Maryclaire Moroney, Associate Dean of Advising. She can work with the Honors Program and other campus programs and departments to make sure that your schedule fits your needs.
Registering for H Courses
To view what Honors-designated courses are available when you register, please visit:
https://web4.jcu.edu/pjcu/szqrterm.P_DispCorClas?v_saved_attr_code=H&term=201430.
There is no requirement to take an Honors-designated class your first semester, but you should complete at least two (along with HP 101 in the spring) during your first year in order to make progress toward completing program requirements.  Please also note that you should avoid taking too many non-Honors designated classes that usually have Honors-designated sections (such as AH 101, PL 101, PO 101, PS 101, TRS 101, SC 101).
Honors Program Requirements
You can see a list of Honors Program requirements here. You should review these requirements regularly to make sure that you remain on track to complete the program. Note that you will be maintained in good standing in the program as long you are making reasonable progress towards meeting program requirements.
Helpful Links