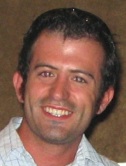 My career path since graduating from JCU in 2007 really illustrates the absolute value of the kind of research and critical thinking skills that the history major delivers. In a world where people are told not to consider majoring in the liberal arts, it's important to understand that majors like history don't focus on the memorization of dates and names. Rather, the history major helped me develop skills that enabled me to meet a variety of situations that required creativity to find the best solution.
After receiving my B.A. in history, I took another year to earn a master's degree in education. I headed to Arizona, where I taught for three years in a Title I public high school. I worked with kids of all different backgrounds, teaching world history, U.S. history, and government at a variety of grade levels. I decided to explore a career change, so I moved to Los Angeles, where I am currently a studio teacher. I tutor child actors on television and movie sets, working with production companies to ensure that child labor laws are enforced.
What I have learned from JCU's history department is not so much that there's a linear progression from a degree to a career: it's how you use that degree. It turns out that reading books and articles and writing papers has a payoff: it prepares you to meet the challenges you will face when you step out of the college doors into the real world.