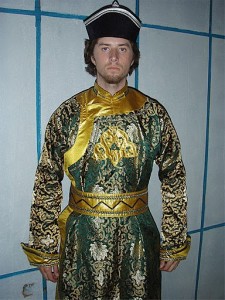 I just returned from a 27-month stint in Mongolia with the Peace Corps in an isolated village of about 500 individuals. I taught English to herder children at the local school, and worked with local counterparts to increase both English and teaching capacity. In addition to my primary project of teaching, I completed numerous secondary projects that involved acquiring grant money. Some of these included organizing and hosting English seminars, planting 300 sea-buckthorn bushes, creating a 53 song English as a Second Language CD which recorded Mongolian school children singing and was distributed to schools and resource centers across Mongolia, as well as creating a website/podcast and English language informational pamphlet for a celebrated Mongolian Monastery. In addition to all these things, I wrote and recorded two albums of original music in my Mongolian ger (yurt), which was the primary outlet for stress.
My days were filled with long stretches of boredom and exciting minutes of awkward situations. I had to get used to doing many things such as lugging water from the river, and slaughtering cows and sheep in addition to herding and caring for those same animals. Learning the hard/alien language of Mongolian was difficult in itself. I never thought I would have become fluent, but luckily I was extrinsically motivated by the fact that nobody else in my town spoke English besides my 1 counterpart.
I had to learn how to survive -40 to -60 degree winter weather in a tent with but four thin layers of felt. To this point, it included not only my -20 rated Peace Corps issued sleeping bag, 3 layers of clothing and blankets over my head to keep warm while sleeping, but also what to do in the morning when you find no solid liquids to work with, which means no brushing of teeth, and certainly no drinking water. Since my area did not have an abundance of coal, I burned wood, which meant that fires died quickly in the night, and any wet wood was a death sentence. The dreaded dance to re-light the fire in the morning was always a most deplorable experience, though thinking back now, I do miss it.
Besides these daily challenges, there are also great stories such as the 45-hour straight bus ride I took half-way across the country, the taxi driver who threw a rock at my head for pointing out that he was ripping me off, or the women who thanked me for coming to Mongolia and not only helping its people, but learning its language and customs as well.
The experience as a whole challenged me to the tipping point. There were points of great frustrations and questioning my very being in Mongolia, but in the end, I would do it again!
Kevin Johnstone went on to do a 7-month stretch with the Peace Corps in Liberia, West Africa.