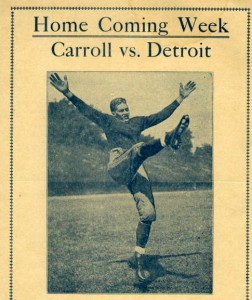 Complete the history minor application here. Bring a copy to the department chair or administrative assistant, and you're all set!
It's easy and helpful to minor in history. Easy, because only 18 credit hours (six courses) are required, and most JCU students take two of these courses to fulfill their core requirements. Helpful, because the skills you'll learn in these courses — analytical writing, critical reading, and public speaking, among others — are important for success in nearly any field. Students from a wide variety of majors find it helpful to minor in history.
No specific courses are required, enabling students to create a minor field which can easily complement a wide variety of student interests and plans of study.
Minor Requirements:
18 credit hours total. Six courses with a minimum of two at the 100 or 200 level and at least three 300-400 level courses, one of which must be at the 400 level.
At least one course in two of the following areas:
American
European
Asian, African, or Latin American.
To declare a history major, complete the declaration of minor form here. Bring a copy to the department administrative assistant or Chair along with a degree evaluation printed from Banner, and that's it!