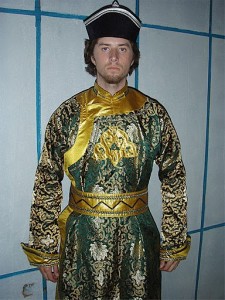 After JCU, I spent 27 months surviving the frozen Mongolian steppe inside a yurt as a Peace Corps Volunteer, becoming fluent in Mongolian, proficient in Mongolian wrestling, and a conqueror of pneumonia. In a small village near the Russian border, I taught English to community members as well as primary and secondary school students in addition to spearheading several development projects.
I subsequently served as a Community Organizer with the UNWFP in Liberia, monitoring and evaluating school systems, and a national food security project. After defeating numerous parasites and black mambas in the land America forgot, I squared off with the scorching Iraqi sun in 2010 spending two years as an English Lecturer at a university in Kurdistan. Besides learning the intrinsic value of "Insha'Allah", I came to greatly appreciate the steadfast spirit and kindness inherent in the Iraqi people.
I matriculated at Columbia University's School of International and Public Affairs (SIPA) in the fall of 2012, pursuing a Master of Public Administration in Development Practice. During summer 2013, I worked as a consultant to the Sierra Leone Environmental Protection Agency in Freetown, analyzing gaps and assessing agency needs. Upon graduation from SIPA in May of 2014 I plan to return to the global stage, pursuing international development albeit in a greater capacity.
The analytical and critical thinking skills honed as a history major certainly proved useful in project conception and implementation, but also laid a strong academic foundation for my time at SIPA. Beyond academics, these skills focused my pragmatism and empathy, which is priceless in designing complicated yet meaningful and effective initiatives, and more critically, developing a sustainable future.
**Update, February 2016** Kevin Johnstone graduated from Columbia's School of International and Public Affairs in 2014. He is currently a Renewable Energy Policy Advisor with Udviklingsorganisationen IBIS (based in Copenhagen), stationed in Sierra Leone.