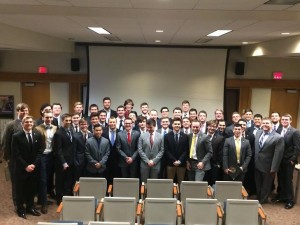 Letters: ΣΦΕ
Founded: 1901 at University of Richmond, Richmond, VA
Motto: "Building Balanced Men for the World's Communities"
Philanthropy: National philanthropy is Big Brothers/Big Sisters. Various projects through Youth Aids (Sigma Phi Epsilon's nationally sponsored charity), Danie's Day, Project Clothesline (with Kappa Delta) and the Annual Car Crush to benefit the Wounded Warrior Project. 
Chapter President: Joe McCarthy
Website: Chapter Website, National Website
The Ohio Upsilon chapter of the Sigma Phi Epsilon Fraternity finds themselves in their eleventh year at John Carroll University. Sigma Phi Epsilon was founded in 1901 on the campus of Richmond College, now the University of Richmond. The story of its founding by 12 determined men set the stage for the growth and success of one of the country's premier fraternal organizations.
The history of the Fraternity reflects the times, through great wars and profound cultural shifts. Throughout the decades, the men of Sigma Phi Epsilon have practiced their values and embraced the stated desire of the Founders, "This Fraternity will be different". SigEp prides itself in creating the "Balanced Man" through four years of practicing the ideals of Sound Mind and Body.