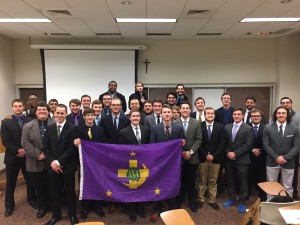 Letters: ΛXA
Founded: November 2, 1909, Boston University, Boston, MA
Open Mottoes: "Every Man a Man", "Naught Without Labor", and "the Crescent and the Cross"
Philanthropy: Feeding America and the North American Food Drive supported locally through the Cleveland Food Bank
Chapter President: Nate Hunter
Website: Facebook Page, National Website
Social Media: Twitter: https://twitter.com/JCULambdaChi
                        Instagram: http://instagram.com/jculambdachi
Lambda Chi Alpha at John Carroll University was founded on September 19, 2011. Through humble beginnings and hard work, the original men are making themselves known to the John Carroll community in many positive ways. Many members have excellent leadership opportunities in their academic field as well as outside of the classroom. They are involved in groups such as Student Union as well as participating in academic internships and research assistantships.
Not only is our individual colony special, Lambda Chi Alpha on the whole has a unique international brotherhood. We are one of the largest international fraternities with an expansive alumni network. We also have one of the most in depth educational platforms, which takes a brother out of the traditional pledge classes of repetitive facts and puts him in contact with real life experiences and challenges to cultivate our seven core values. These values are loyalty, duty, respect, service and stewardship, honor, integrity and personal courage. To achieve them, we take advantage of the "True Brother" learning model as well as abandoning the typical pledge process. Instead, Lambda Chi Alpha implements an associate membership period. Associate membership holds nearly all rights and responsibilities as a brother would and is treated with the same dignity and respect as a full brother.
Our chapter is very proud of who we are and the legacy we are building. We cherish the amazing friends we have made along the way and will continue to make as we grow and charter in the years to come. We are always seeking the men who want to make themselves they best they can be and are ready and willing to work for it! We're building our legacy brick by brick, day by day, and "Naught Without Labor!"