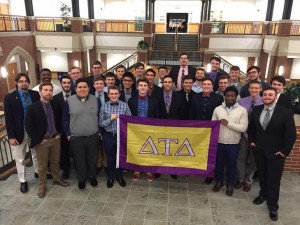 Letters: ΔΤΔ
Founded: 1858 at Bethany College, Bethany, VA
Motto: "Committed to Lives of Excellence"
Philanthropy: Juvenile Diabetes Research Foundation
Chapter President: Nick Imbrogno
Website: Chapter Website, National Website
Delta Tau Delta is a values-based organization maintaining the values of Truth, Courage, Faith, and Power. Collectively, Delts are brothers who partake in several activities both within John Carroll University's campus, as well as the greater community. Such activities include brotherhood retreats, Cleveland Indians games, service, including to our national philanthropy, the Juvenile Diabetes Research Foundation (JDRF), formals, and John Carroll's annual Greek Week.
Joining Delta Tau Delta provides encouragement of lifelong growth as well as a firm network of men to communicate and develop with both inside and outside the classroom. Delt provides a man with the tools needed to become prepared for life after college with leadership opportunities and active involvement encouraged around campus and the world. Not only will Delt inspire men to fulfill John Carroll's statement of being a "Man for Others," it will also encourage a lifetime of excellence as well. Joining Delta Tau Delta will provide a man with  a network of thousands of active and alumni brothers worldwide.