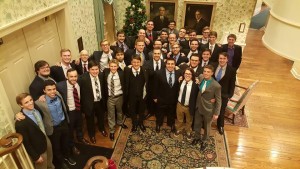 Letters: ΒΘΠ
Founded: 1839 at Miami University, Oxford, OH
Motto: "To Develop Men of Principle for a Principled Life"
Philanthropy: Milestones Autism Organization
Chapter President: Jacob Rayl
Website: Chapter Website, National Website
Beta Theta Pi is dedicated to building men of principle for a principled life through lifelong devotion to intellectual excellence, high standards of moral conduct, and responsible citizenship. The fraternity has more than 120,000 living members including some 5,800 collegians on nearly 130 campuses in the United States and Canada, and recently expanded to the JCU campus in the fall of 2007. Beta has already made a big splash, named as the 2008 Greek Organization of the Year.
Beta stresses lifelong friendship, cultivation of the intellect, responsible leadership, responsible social conduct, and commitment to community through all of its activities. JCU initiated its founding fathers on January 13, 2008, and is now composed of 40 active members. Betas are widely known for their heavy involvement in campus activities. They engage the world by studying abroad and taking part in immersion experiences, give back to JCU through service, proudly represent the Blue Streaks on the athletic field, and hold some of the most high profile and coveted leadership positions on campus. Each fall, Beta Theta Pi sponsors "Carroll's Got Talent," a University-wide talent show for students and staff to benefit its philanthropy, the Milestones Autism Organization.