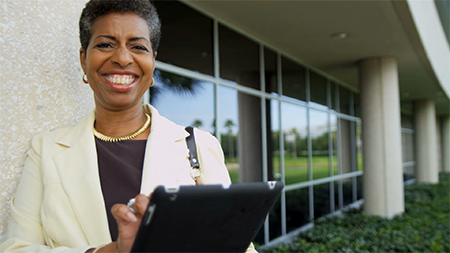 The Educational Leadership program at John Carroll University offers a flexible hybrid and online format that can be completed in two years.  This program offers a Certificate of Assessment and Accountability, in addition to earning a Master's in Education and Principal Licensure. The certificate supports your knowledge and skills in assessing program efficacy and develops a strong understanding of data analysis and data-based decision making.
Application Deadlines
Applications will be considered on a rolling basis until the cohort fills.
Why choose John Carroll?
The Educational Leadership program empowers you to evaluate building-level programs and make data-driven decisions. This flexible hybrid program, through the Department of Education and School Psychology, provides the opportunity to earn the following credentials:
Master's of Education Degree (M.Ed.)
Certificate of Assessment and Accountability
Principal Licensure
If you already have a Master's Degree (M.Ed.), you can also take the necessary courses for the Certificate and Licensure through this program.
How long will it take to complete this program?
Students will take two hybrid classes and one online class each semester during the first year of study. The online course will run the full 15 weeks of the semester, and the two hybrid courses will run consecutively, each for 7 weeks. Students will not take more than two courses at a time. The second year of study requires one online course and one hybrid course during fall semester, and one online course and a site-based internship during spring semester. This program and internship allows students to work full-time and meet program requirements. The program will build upon practice in the field with assignments relevant to the school environment.
What will my workload look like?  
Students will only be required to come to campus once every other week during the semester.  Course materials and assignments will be available on Canvas, John Carroll University's online platform.  Students will complete online modules requiring them to do outside reading, view videos, and complete assignments related to their educational site.
How much does it cost?
Costs may vary depending on your program, but the 2018-2019 cost per credit hour is:
Arts and Sciences: $730.00 per credit hour
Financial aid is available, including a 1/3 reduction in in tuition for qualified professionals.  For more information on financial aid, contact Student Enrollment and Financial Services  at (216) 397-4248 or at enrollment@jcu.edu.
Admissions Criteria
Details on the application process can be found at this link!