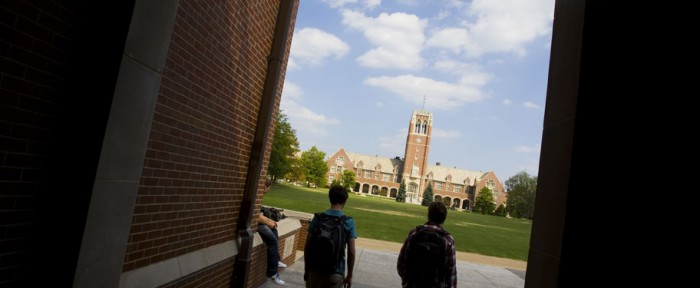 The Department of Counseling offers master's degrees in Clinical Mental Health Counseling and School Counseling. Both programs are CACREP accredited.
The Clinical Mental Health Counseling program is 60 semester hours and meets the academic requirements for licensure as a Professional Clinical Counselor (PC and PCC) in the State of Ohio.  The degree also meets the academic requirements of the National Board for Certified Counselors for National Counselor Certification (NCC).
The School Counseling program is 48 semester hours and leads to licensure in the State of Ohio as a school counselor (CAEP).
Program Learning Goals
Students will:
Demonstrate an understanding of the major principles of research design and program evaluation; evaluate research reports for methodological and statistical appropriateness.
Apply basic counseling and facilitative communication skills in individual and small group settings.
Demonstrate an understanding of counseling theories, and evidence-based counseling approaches. Appropriately apply various theoretical approaches when working with clients and/or students.
Demonstrate understanding of the psychosocial foundations of human development, behavior and learning, and apply that knowledge when working with clients and/or students.
Counsel and advocate for individuals from diverse social, cultural, sexual orientation and economic backgrounds with an awareness of how discrimination and societal expectations can impact healthy psychological development and the counseling process.
Demonstrate knowledge of group process and procedures by describing and analyzing group process, and by applying basic techniques of group counseling.
Conduct a developmentally appropriate career exploration and assessment that demonstrates an understanding of career development theory and the career counseling process.
Demonstrate the ability to select and evaluate assessment instruments for possible use with clients and/or students.
Model legal and ethical understanding of the ASCA or ACA ethical standards. Demonstrate knowledge of the appropriate ethical code and of the ethical decision making process.
JCU also offers a Substance Use Disorders Counseling Program, which prepares students for license eligibility as either a Licensed Chemical Dependency Counselor (LCDC) or a Licensed Independent Chemical Dependency Counselor (LICDC), depending on prior academic work. There are two ways to study Substance Use Disorders Counseling, as a stand alone certificate or as a concentration within the Master's degree.