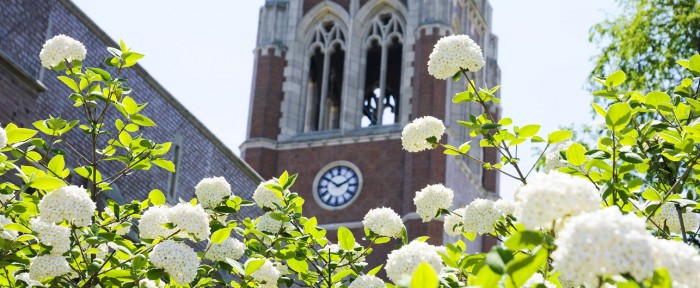 The Office of Graduate Studies is available Monday through Friday, 8:30 a.m. to 5 p.m. to meet with interested students and to answer any questions. To select a specific time, please contact us directly by e-mail or phone at 216.397.4284.
Directions to Campus
John Carroll University is easily located off of Interstate 271 on the east side of Cleveland. Directions to campus will bring you to University Heights from downtown or from the interstate by way of Cedar Road or Fairmount Boulevard.
Begin your visit to campus by entering the campus through the North Park Entrance, the entrance closest to Fairmount Circle on the campus map. As you stop at the gate, the guard will provide directions and a permit to park in any open lot on campus except for those marked faculty/staff. There is admission parking directly in front of Rodman Hall, located next to the Administration Building.
Proceed to our office in the Administration Building, under the clock tower in the heart of campus. The Office of Graduate Studies is located on the first floor in the B wing room 103.
Schedule a Visit
For an appointment with the Faculty Coordinator of a specific program, please contact us in order to schedule a time. We are also happy to schedule an individual campus tour tailored to the interests of graduate students if scheduled in advance. Organized tours of campus are offered through the Office of Undergraduate Admission and prospective graduate students are always welcome to join these tours.
Information Sessions
On-campus open houses are scheduled throughout the academic year.
Graduate School Fairs
Each fall, a representative from the Office of Graduate Studies attends a number of graduate school fairs hosted by different schools around the area. Postings will be updated this summer.