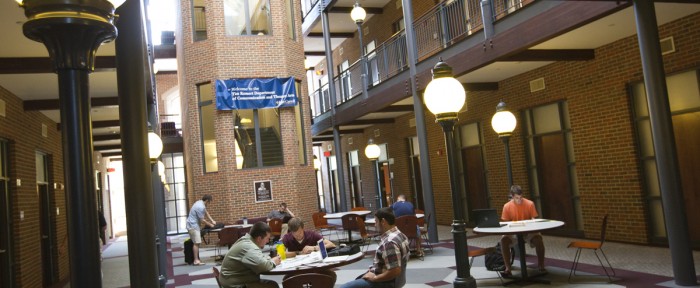 The Thesis, Essay, Creative Project for Master's degree programs requires students to identify a worthy problem in their field, research and analyze that problem, and communicate their findings in clear and competent writing to an academic audience. Completion of this requirement signals to others the students' capability, integrity, perseverance and dedication to define and complete a complex project.
Every thesis, essay, or creative project approved for the Master's degree is a mature piece of original research, and as such, it is made available to the scholarly community through Carroll Collected, John Carroll University's Institutional Repository.  The presentation of the research must meet University standards to insure that every thesis, essay, or creative project that represents John Carroll University meets the same high standards of presentation.
Thesis, Essay, Creative Project Guidelines set forth by the College of Arts and Sciences outline the format requirements for all masters' theses, essays, and creative projects. These guidelines offer a basic guide to format; they are not an exhaustive guide to style or the process of developing and writing a thesis. Individual departments or programs may stipulate additional requirements.
Beginning with the spring semester, all theses, essays, and creative projects required in partial fulfillment of the Master's degree will be electronically archived in Grasselli Library's Carroll Collected. Electronic submission enables wider dissemination and access locally, state-wide, nationally, and internationally.
Thesis/Essay/Creative Project Guidelines may be accessed here.
Guidelines for Electronic Submission of the Thesis/Essay/Creative Project may be accessed here.
For further information on thesis, essay, or project requirement see the University's Graduate Studies Bulletin, Pages 12-13.
http://webmedia.jcu.e2du/graduatestudies/files/2016/08/2016-2018-Graduate-Studies-Bulletin.pdf