The Program
John Carroll University at Vatican City offers students the opportunity to study in Vatican City while earning John Carroll University academic credit. Classes held specifically for John Carroll University students meet at the Pontificia Universita Urbaniana and will be taught in English by both Urbaniana and John Carroll University professors. This one-semester program is ideal for sophomore and junior students. Students can use the courses offered to fulfill the requirements of the John Carroll University academic core.
Living in Rome
Students share apartments located in the center of Rome and within walking distance to the university. The cost of cleaning is included in the cost of housing.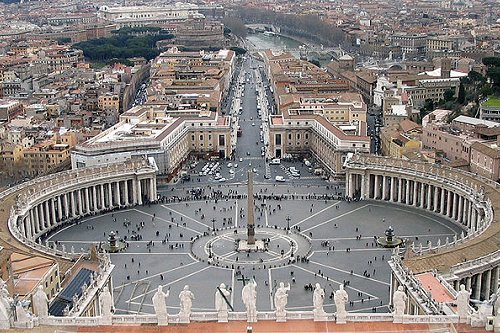 Courses Offered (may change)*
IT 101, 102, 201, 202, 301, or 302 (Italian language at appropriate level for each student)
IT 399, Italian Literature and Culture
PL 285, African Philosophy (Prerequisite PL 101)
PL230, Christian Thinkers (Prerequisite PL 101)
PL 302, Introduction to Ethics (Prerequisite PL 101)
AH 431, Sixteenth Century Art in Rome (Prerequisite AH 101)
HS 296, A Century of Italian History (1870-1992) (No prerequisite)
TRS 321, History of the Papacy (Prerequisite RL 101)
IC 163, Women in Italian Society through Literature and Film

Faculty Director
Santa Casciani, Ph.D., director of the Bishop Anthony M. Pilla Program in Italian American Studies at John Carroll University, was instrumental in creating the study abroad program at Vatican City. As associate professor of Italian language and literature at John Carroll, Dr. Casciani has developed undergraduate courses dealing with Italian and Italian American issues. She has published extensively in Italian literature, including work focused on authors such as Dante and Michelangelo. She earned her Ph.D. in Italian at the University of Wisconsin-Madison, her M.A. in Italian at the Ohio State University, and her B.A. in Italian and English at Saint John Fisher College.
Travel Within Italy
Students will participate in an excursion to Tuscany in the middle of the semester. While in Tuscany, students will have the opportunity to visit museums, palaces, and old noble and royal residences. The costs of the excursion are included in the program fee.
Financial Aid Information
Students are able to apply all their financial aid, including scholarships, and federal and state aid, to the Vatican City semester. Students with employee benefits packages are not eligible to use these benefits for this program. Please consult the Office of Financial Aid for your individual situation.
Program Costs

Directly billed by JCU (Fall 2015 rates)
Tuition: $17,965
Room and Board: $5460
Program Fee: $3000
Administrative Fee: $1000
Total Billed: $27,425
Estimated Expenses (Not billed by JCU, may vary for each student)
Personal Expenses: $2500
Insurance: $160
Total Indirect Costs: $2660
Total Budget: $30,085
Program Fee ($3000) includes:
Round-trip airfare to Rome
All textbooks and reading packets
Orientation on-site and dinners during orientation
Land transportation from airport and for excursions
2 longer excursions: 5 days in Tuscany, 5 days in Northern Italy
Cell phone with 15 Euros credit
Permesso di Soggiorno (Residence Permit from Italian government)
Insurance required by Italian government
The Bishop Pilla Program pays for:
Excursion to mountains in September
Thanksgiving break
How to Apply
Completed John Carroll University applications for Fall 2014 are due on April 1, 2015. A $500 non-refundable deposit is due on April 1, 2015.
For further information about this program, please do not hesitate to contact the Center for Global Education or Dr. Casciani.
For further information on Italy, Rome and the Vatican City please consult the following links: