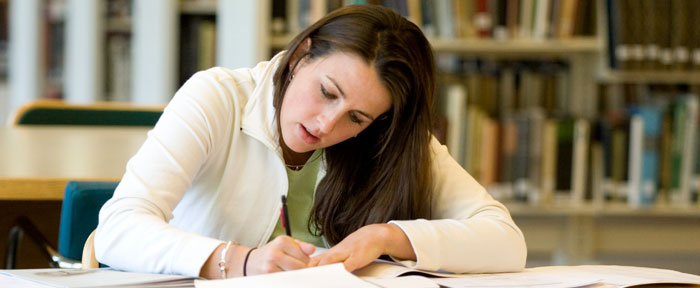 Standard Course Offerings
The English Department offers several different First-Year Writing courses, based on student needs. Most students will take English 111 in the first semester and 112 in the second semester. Students with exceptionally high test scores may be placed into English 114 and 116, a two-semester advanced alternative to English 111 and 112. Students who require additional assistance with their writing may be placed in English 103 and 104.
English 111 instructors are encouraged to teach a standard syllabus, where students are asked to write four major papers. One of the goals of English 111 is to teach writing as a means of critical inquiry, stressing the centrality of writing to intellectual life. In English 111, students will learn how academic arguments are made in response to pre-existing arguments. Because good writing cannot be disassociated from careful reading, students will grapple with a diverse body of interrelated and sometimes difficult readings.
English 112 is the second half of the required two-course sequence in writing for most first-year students. The standard English 112 curriculum builds on the EN 111 curriculum and teaches rhetorical strategies necessary for successful research-based writing in diverse academic and non-academic situations. Students will apply the principles and practices introduced in EN 111 and learn more thoroughly the role research plays in constructing knowledge.
English 114 and 116 are for students with exceptionally high test scores. These classes don't necessarily require more reading and writing than their English 111 and 112 counterparts but consistently demand more accomplished writing and critical reading. Although English 114 and 116 vary, they have a central objective and a core of features in common. The central aim of each class is to improve students' writing and argumentative skills, and to enhance students' ability to read and understand literary and non-literary texts.
English 103 is for students who require more explicit emphasis on addressing problems in grammar, mechanics, and usage. More writing is also required of students in English 103 than in English 111 or 114.  Students in the course address the following: they read and write expository prose; study the principles of invention, arrangement, and style; they work to develop a sense of audience and purpose in their writing; and they study matters of grammar, mechanics, and usage to support their writing skills. English 103 also introduces students to the basics of research.
English 104 is the spring semester course taken by students who complete EN 103 in the fall semester. The EN 104 curriculum mirrors much of what is taught in the standard EN 112 curriculum and its focus on academic research, but the assignments and activities are constructed specifically for a developmental writing population.