Maria Soriano, Writing Center director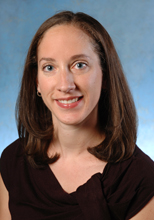 Maria Soriano earned her Master of Arts degree in English with a specialization in Composition and Rhetoric from John Carroll University in May 2010. While in the program, she was a Graduate Assistant and Assistant Director of the Writing Center for two years. In March 2010, she presented her Master's essay research, "Student Consultant Continuum: Incorporating Writing Center Techniques of Peer Review Into the Composition Classroom," at the Conference for College Composition and Communication in Louisville, Kentucky.
Maria earned her Bachelor of Arts degree in English with a minor in Music from Baldwin-Wallace College in May 2007, where she graduated summa cum laude and was a member of the Dayton C. Miller Honors Society, Sigma Tau Delta English honors fraternity, and Mu Phi Epsilon music honors fraternity. Maria teaches Composition and Rhetoric I and II courses, as well as the Principles of Tutoring course for future Writing Center consultants.