How online education can be made to serve our institutional purposes
By Anne Kugler
Online courses and degrees have been present on the higher education scene since the mid-1980s. Whether synchronous (participants are online simultaneously) or now more commonly asynchronous (students access materials at their convenience to complete scheduled assignments), online education is a significant and growing sector of higher education. Popular for their flexibility, so students with other commitments can fit courses into their schedules, online courses are particularly suitable for adult learners who have full-time jobs (and thus schedule constraints) but are seeking additional professional training.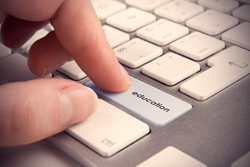 There is, of course, variability in how much a discipline lends itself to online formats, and perhaps more fundamentally the question of whether interaction in a bricks-and-mortar classroom is essential for the highest quality education. Although online education can offer highly interactive experiences, it is a fundamentally different model of teaching than face-to-face instruction.
The rise of online education has been on John Carroll's radar since the 1990s when a University committee convened to review trends, discuss policies, survey faculty, and report to the academic vice president. In 2006 the University Planning Group cited the potential for online professional program development, and through the years, questions about the quality, transferability, and pedagogy of online courses have been considered repeatedly in the Committee on Academic Policies and the University Core Committee, as well as in discussions with Academic Advising and the Registrar.
The general sentiment about most of these discussions was that John Carroll's identity – committed to personalized attention and individual development, and serving a primarily residential, traditional-age, and undergraduate population – was not conducive to large-scale adoption of online courses and programs.
Nonetheless, on an ad-hoc basis, professors such as Paul Lauritzen and Marc Lynn developed online courses, particularly for summer sessions. By 2011, faculty in Accountancy, Communications, Economics, Education, Psychology, Sociology, Philosophy, Classical and Modern Languages had also taught fully online or hybrid courses during the summer. Aided in planning and technology support by the Center for Digital Media, these faculty were often supported with course development grants from the director of summer sessions.
In 2013, declining summer school enrollment prompted (among other strategies) a systematic effort to offer more courses online to attract students. To encourage faculty to offer new online courses, course development grants were awarded to 14 faculty across 10 disciplines to create online versions of core and upper-level courses. The Center for Digital Media provided training and technological support; the Center for Faculty Development supplied texts about course design; and panel discussions with faculty experienced in teaching online.
These efforts generally resulted in significant enrollment gains, especially in online courses. In summer 2012, there were 159 students enrolled in 15 online courses taught by 12 faculty. In summer 2013, there were 487 students enrolled in 37 online courses taught by 32 faculty. Undergraduate enrollment in face-to-face courses declined by 65 seats from summer 2012 to summer 2013 (11 percent), but these losses were more than offset by
a gain of 219 seats (150 percent) from online courses in summer 2013.
In September 2013, new online course instructors participated in a debriefing to discuss their experiences teaching online and reflect on the effectiveness of this kind of teaching. Then, at a broader meeting of faculty on September 20, the themes that emerged in the debriefing provided a starting point for a wider conversation about educational effectiveness, the fit with John Carroll's mission and identity, and pedagogical and institutional issues that deserved attention going forward.
Pedagogically, three issues emerged. First, the particular challenges of teaching online courses in a compressed summer format because online or compressed formats essentially demand students excel at time management and self direction to succeed. While most classes this summer will continue to use the five-week session format, a few courses – English Composition, for example – will move to the seven-week session because of this concern.
Second, faculty emphasized the need for attention to the expectation-setting preliminaries of each course in making sure students can operate within the online system and are aware of the time demands and self-pacing necessary to complete the course. Discussion continues about whether this sort of student orientation can be done across courses, using a generalized module, or not.
Last, some faculty are concerned about the degree to which taking an online course might impede student engagement or detract from the rigor of a course. On one hand, faculty who taught online say assignments such as participation in discussion threads actually enable a lot of interaction, in ways that can enable ordinarily shy or taciturn students to participate more than they might in a face-to- face class. On the other, generating a satisfactory level of engagement requires careful course design and intensive monitoring by faculty. Moreover, the extremely labor-intensive, time-consuming nature of online teaching using such techniques provokes questions about the tradeoffs. Faculty affirm that while offering online courses might be a cost savings to an institution at first glance, in reality, delivering the same quality level as a face-to-face class requires class sizes to be smaller not larger.
Additional issues that came to light and will need additional consideration at the institutional level include the questions of identity verification and ensuring academic honesty; intellectual property rights; accessibility and support for students with disabilities; and resource needs in terms of infrastructure and staffing for course design and technology support.
These issues have particular resonance because John Carroll's online offerings are slated to increase more in summer 2014. Eighteen course development grants will be awarded across 11 departments, which, combined with courses offered by experienced instructors, adds as many as 49 online courses taught by 44 faculty from 15 departments.
By fall 2014, about 32 full-time faculty at John Carroll will have taught online – a critical mass for evaluating online value and potential from an experienced perspective and for developing policy and future programs. Questions of scale and capacity have particular resonance in graduate education, where plans for a Master of Arts in Clinical Mental Health Counseling and a Master of Science in Lab Management involve substantial online components. At the undergraduate level, the challenge is to offer online instruction that enables student to complete their degrees at John Carroll, ensures quality instruction and course content, and perhaps even attracts non-JCU students to summer offerings. At the graduate level, the challenge is to develop and offer sufficiently flexible professional programs to attract working adults while maintaining high standards of quality regardless of delivery method. How far, and in what circumstances, online education can be made to serve our institutional purposes is still an open question.
---
Comments are closed.