The following is the speech Philip Metres gave Oct. 5, 2012, after receiving The Lucrezia Culicchia Award for Teaching Excellence, which is given to a member of the faculty in the College of Arts and Sciences who has made a distinct difference in the teaching climate of the college in such areas as model classroom teaching, campus leadership about teaching issues, pioneering teaching methodology, and creative course development.
—–
"If history is to be creative, to anticipate a possible future without denying the past, it should, I believe, emphasize new possibilities by disclosing those episodes of the past when, even if in brief flashes, people showed their ability to resist, to join together, occasionally to win. I am supposing, or perhaps only hoping, that our future may be found in the past's fugitive moments of compassion rather than in its solid centuries of warfare."- Howard Zinn, A People's History of the United States
Thank you, Jeanne (Colleran) and Peter (Kvidera), for your words and support. I'll always be grateful to Jeanne for her early support as chair and for the guidance of my colleagues in the English Department, who helped me become a more reflective teacher. I'd like to remember especially Chris Roark, who visited my class a number of times and whose teaching was a model of commitment and passion. He set the bar high for all of us. His dedication to student learning was so transcendent it bordered on the absurd. Requiring students to write seven drafts of a paper, Chris? No wonder one student wrote on Rate My Professor that taking a class with Dr. Roark is like having a jealous lover for the semester.
Thanks to Paul Lauritzen for his mentoring and collaborations over the years. One semester while he was on leave, Paul sat in on my 9/11 course. Every single class. If you ever want to improve as a teacher, invite another teacher to your class – to every single class! As if the material wasn't dark enough – reading Bin Laden's communiques and accounts of people falling out of buildings – Lauritzen was always in the corner, waiting to pounce. Seriously, I am so grateful to Paul for his nomination. Everyone should nominate everyone else for this award because I believe it has made me a more committed teacher.
I want to thank my wife Amy, whose daily conversations have always kept me learning; she is a wise interlocutor who always keeps me grounded. In a moment of self-doubt earlier this year, I told her I wasn't sure I was making enough difference in the world. I said look at how much Anthony Shadid – the New York Times reporter exactly my age whose news stories from the Middle East informed Americans and humanized Arabs – has done. She said, you're comparing yourself to a guy who died of an asthma attack trying to flee Syria. Point taken, I said.
I won't unroll the catalogue of past teachers who shaped me, except for poet Robert Cording at Holy Cross. For Cording, the secret of teaching was love – love of one's discipline and art and love for the students. Every week, he took my dreadfully sentimental poems very seriously and helped me believe the mad dream that I could ever be a poet. He was kinder to me than he was to his own children.
And thank you to my students, who have always been my teachers. You know, when I began graduate school, I was not really interested in teaching at all; I only wanted to learn how to write. Perversely, I once told my freshman comp class at Indiana University, home of Bobby Knight's Hoosiers, that when I attended an IU basketball game, I liked to root for the other team. Needless to say, that was the equivalent of saying I approved of infanticide.
What I learned very quickly was that teaching is the most intensified form of learning. Every class reminds me to go humbly before the art of art, and the art of teaching, and that the students ultimately need to become their own best teachers. Our job is to find ways to help them figure that out.
In the time I have, I'd like to say a few words in defense of the imagination, and in particular, poetry, and connect that to encouraging global citizenship. In every school, we pay a lot of lip service to the notion of critical thinking. But critical thinking without imaginative empathy, without the power of pathos, risks producing what Peter Sloterdijk calls cynical reasoners. How might we develop, alongside the pedagogy of critical thinking, a pedagogy of the imagination, which would engage our creative impulse, our empathy, our capacity to love?
St. Ignatius' Spiritual Exercises, incidentally, actively foreground the work of the imagination by having daily mental representation of the Gospel stories. Such vigorous and focused attention on the language of scripture, the work of the imagination, parallels a vital stream of intellectual being: to pay close attention, to slow down, to ruminate, to wonder.
This is what imaginative writing offers: a still point, a place to compose oneself, to find one's stories in the midst of technology's seductive screens, of the overtasked, 18-credit-hour millennial mind. The poet C.D. Wright wrote: "Some of us read and write poetry not simply for delight or instruction, but to be changed, charged, healed." I want my courses to open the field of imagination in which we may experience metanoia, that changing of mind/heart that true learning invites. It is to enact what Rilke felt when gazing upon the Archaic Torso of Apollo: "You must change your life." Or, in Mary Oliver's contemporary version: "Our lives will end, and too soon. So tell me,/ what is it you intend to do/ with your one wild and precious life?"
[Here I conducted a little poetry experiment: WhenIsaywhatdoyoudowhenyougoto the mall? You say, Shop shop shop!
[Do it three times]
The third time, I ask "What do you do when you reach a green light?", and people will say: Stop stop stop.]
And you wonder why Cleveland traffic is so bad.
Why do we answer that way? Our minds are not merely logic machines. We are Sufis of sound. There is a magic to rhyme, to the sounds of words. That is why Wallace Stevens spoke on behalf of "the imagination pressing back against the pressure of reality. It seems, in the last analysis, to have something to do with our self-preservation; and that, no doubt, is why the expression of it, the sound of its words, helps us to live our lives."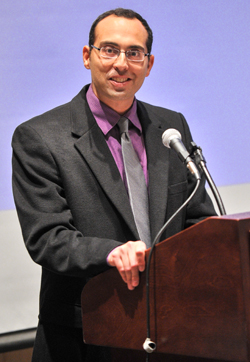 [Here I conducted a second little poetry experiment, the surrealist game: definitions. Here I ask people to write down a sentence, beginning "it is …" that includes some image, some sensory detail. Then I ask the question: "What is love" and they answer …]
This is our brain longing for meaning, to suture other to other. The magic of metaphor. Frost said "unless you are educated in metaphor, you are not safe to be loosed in the world … You are not safe with science; you are not safe in history." You are not safe before demagogues or fundamentalists. You are prone to propagandists selling everything from Axe body wash to Tomahawk missiles.
I want to ignite the curiosity in students, to create for themselves a space in themselves for listening to the words that will come to them. Call it Muse, call it self-reliance, call it God – whatever you call it, call it: It is in the space of listening and visioning and envisioning – imagining – that the gift of poetry comes.
But the solitary self is not the end; it is only the beginning. Even in the crude pop poetry of 1980s, worlds were opened in me, a suburban kid from Chicago. From Peter Gabriel's "Biko," I learned about South Africa. From U2's earnest "Bloody Sunday," I learned about the Troubles in Northern Ireland. From REM, I learned about Guatemala and the burning of the exotic Cuyahoga.
Art has always been a place of the leap, the empathic leap into other selves and worlds, to feel a bit of what it feels like to be someone else, to live some other life.
I want my classes to be an encounter between word and world, a double- movement that compels the writer/ reader inward and outward. When students engage in service learning project for my creative writing courses, I want them to move beyond the cliché that writers only "write what they know."
If we write toward what we don't yet know, our forays into other worlds can open us further to the not-yet- known, this large but ever-shrinking globe. Students have taught me what it's like to make meals in L'arche Community houses, teach English to Latino immigrants, hand sandwiches to a homeless men under bridges in Ohio City, talk via Skype to university students in Iraq, chat online with Palestinian students from al-Quds University, talk with teachers at Agnon School in Shaker Heights, and hear the stories of former paramilitaries turned peacebuilders in Belfast, Northern Ireland.
If war is, in part, a failure of the imagination, the reading and writing of lives at the other end of the missile site is one antidote to the poison of imperialism – with its narcotic mix of abstraction, rationalization, chauvinism, and demonization. I've staked my life on that work. At least for now, I don't need to be Anthony Shadid.
Thank you.
---
Comments are closed.