Classroom technology at Carroll
By Anne Kugler
In 1980, a faculty member could expect to find three things in every classroom on John Carroll's campus: a chalkboard, a lectern, and (less universally) an overhead projector. If a professor needed something more, Jim Molnar, an audio/visual technician in Grasselli Library could supply 16-mm tapes, carts with overhead projectors, and slide projectors and carousels. Computing on campus was dedicated to administrative functions, not teaching. Computing staff spent most of their time writing code for the mainframe, for instance, spending months each year writing code to reflect federal changes in financial aid rules.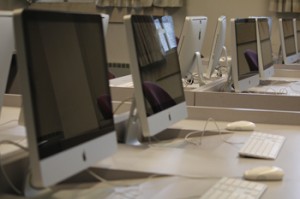 During the mid-'80s, however, technology innovations and people on campus who saw their implications moved Carroll down the path toward incorporating technology in the classroom intentionally. In the Boler School of Business, Frank Navratil, Professor of Economics and Finance, saw the need to educate business majors with proficiency in the new technology at the same time as Bill O'Hearn, Professor of Physics and Computing Director, moved the University's administrative computing from a mainframe system to the VAX, freeing computer specialists to work on other projects. With donations from Ohio Bell, Standard Oil of Ohio, TRW, and Ernst and Whinney, Navratil funded the first personal computer lab on campus. Meanwhile, Jim Burke, now Director of Computer Systems & Services, moved from writing mainframe code to inventing a first generation of network system software to install in the new computer lab, which opened in 1986.
Now that computing services included attention to classrooms for the first time, O'Hearn started talking to faculty about how to outfit rooms to aid teaching. In 1988, as part of the Boler School building renovation, Bill Barker, now Manager of Help Desk Services, and Navratil installed the first document cameras and computer projection technology in the ceilings of BR 18 and BR 43.
The upgrade inaugurated the age of the entrepreneurial wild west method of installing classroom technology, Burke says. As other faculty saw and wanted to try these machines, the Information Technology department made piecemeal improvements while a few faculty in specialized fields pursued projects related to their discipline.
The results were that on the one hand, IT installed ceiling projectors with cables and remotes in a few classrooms (at a cost of $25,000 per classroom), but faculty usage was light. It took too much class time to run the equipment, and there was no guarantee semester to semester of classroom availability. Many faculty weren't prepared to invest time and preparation in an as-yet unproven and unstandardized system.
On the other hand, a few faculty members saw potential. In 1994, Professor of Education Kathy Roskos was awarded a three-year, $5.3-million grant from the Department of Defense to train math and science teachers in the Cleveland Public Schools. Part of the funding was to outfit classrooms at John Carroll and in the Cleveland Metropolitan School District for two- way video for teacher observation and training, as well as help identify best practices designing an interactive classroom environment, such as investigating what works in terms of computing, video, and table design for group projects. (For a brief account of this project and some of its results, see "Technology-Enhanced Learning Environments" Change 27:6 (Nov./Dec. 1995).
So, by the mid-1990s, a professor with specialized interest and expertise might well have gone out and generated support for a particular project, but the typical professor could only expect to occasionally encounter a classroom outfitted with additional technology, which was neither ubiquitous nor easy to use.
As personal computing became more mainstream in business and consumer culture during the 1990s, and as universities throughout the country began to incorporate it into a campuswide plan, JCU experienced another convergence of opportunity and initiative. In the IT department, Rick Valente, Duane Dukes, Wendy Shapiro, Patricia Dawson, and Mark Lynn discussed teaching technology needs and goals and built a support mechanism in the new Faculty Technology Innovation Center. As the new technology fee provided a revenue stream that made it possible to contemplate a campuswide installation project, faculty wanted a standard menu of options that included a PC, document camera, VCR, plus laptop capability. They wanted equipment that offered clear sound, bright projection, and a crisp image. They wanted it all in a lectern that was mobile.
To achieve these goals in a way that was reliable, maintainable, and affordable, Burke and his IT team developed an integrated control system so classroom technology would look and operate the same way across campus. Incorporating this level of system integration added $10,000 to the cost of outfitting a classroom, bringing the total to $35,000 each. But because it reduced the learning curve and increased the likelihood of increased faculty usage, it seemed worth the investment. Furthermore, because there was no suitable control system on the market, Burke and his team worked with vendor engineers to implement the design, which contractually is owned wholly by the University. This practice has resulted in considerable savings throughout the years.
At the end of the summer of 2000, JCU welcomed students to 16 newly computerized classrooms in the Administration Building and four in the Boler School. In addition to the standard fully integrated classroom, two were furnished to a higher standard for showing films and images.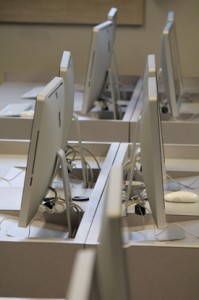 These improvements in the Administration Building classroom infrastructure were accompanied by attention to supporting mobile teaching technology in the areas of campus where it wasn't fixed classroom infrastructure yet. Dukes led Instructional Media Services to coordinate that effort, Shapiro's efforts were devoted to the FTIC full-time, and Lloyd Moreland supported the Education Department's classroom technology then the College of Arts and Sciences more broadly.
With the construction of the Dolan Center for Science and Technology in 2003 came the opportunity to incorporate this comprehensive standard from the ground up. Dolan's construction also meant a considerably higher proportion of classrooms across campus had technology infrastructure. With less need for mobile carts, the Instructional Media Services department was folded into the Information Technology Services department. Meanwhile, as the question of technology moved from how to project or otherwise display media in the classroom, to creating assignments that help students acquire a higher level of digital literacy, the Faculty Technology Innovation Center morphed into the Center for Digital Media, where Jay Tarby, Faculty Liaison for the Center for Digital Media, supports faculty alongside librarians who support students by incorporating new ways to retrieve, display, and interact with information across a variety of fields.
Work continues to bring the O'Malley Center up to this standard multimedia configuration so capacity is the same campuswide. Carroll still compares well with many schools regarding the penetration and integration of classroom technology, Burke says. In addition to maintaining the now- standard classroom configuration, IT continues to support investigation into how and which new technologies might work best for teaching, from iPads to Mondo boards for group work to continued refurbishment of OC211 (currently equipped with an LCD screen, a projector, and a Smart Board) as the Education Department's base for teacher training.
In 2012, the University confronts the need to initiate a second generation of classroom technology in 90 classrooms in the Administration Building and Dolan Science Center at a cost that might reach $4 to $5 million throughout 10 years, without counting furniture, lighting, and drapes. As continual innovations in consumer electronics create new expectations and behaviors, classroom technology continues to need to be accessible, functional, and driven by pedagogical priorities.
One example of the kinds of choices that will need to be made is what to do about projection. A good projector costs about $5,000 and requires a new $500 bulb about once a year. (Currently, JCU spends about $45,000 on projector bulbs each year, the price of success for heavy classroom usage). LCD screens would be brighter with sharper resolution but are smaller than pull-down screens and would be more complicated and expensive to repair or replace than a simple bulb change. They could, however, also incorporate Smart Board overlays, which would add interactive capability incoming students are seeing more often in their secondary schools.
Just as in the 1990s, the question is: Would faculty see the new interactive capability as potentially valuable for their teaching and student engagement in the classroom? Would they make the investment in learning to use it? If Smart Boards became standard classroom equipment, would they be used as intensively as the current projection systems, or would their interactive potential go untapped? Would it be more economical and efficient to continue with regular projection screens?
In February, faculty participated in the first of a series of discussions about planning for this next phase of classroom technology. In addition to affirming the importance of the nuts and bolts of chalkboards and effective window blinds, a number of ideas surfaced about the potential for interaction with student laptops, specialized rooms with double screens and projectors, and video recording of class presentations.
Further consultations, a survey, and conversations with students will occur during the coming months in hopes that, by December of this year, a plan takes shape that sustains a universal standard and takes account of the potential for new technologies while focusing on how the equipment in a classroom can best support the teaching that goes on there.
---
Comments are closed.