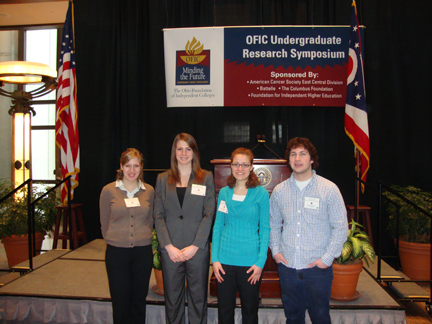 Faculty mentors of students at the Ohio Foundation of Independent Colleges Undergraduate Research Symposium were:
Tom Short (MT) for "Bootstrapping Methodology Applied to Selecting an Optimal Cutoff Value," by Nick Hermez (far right).
Wendy Wiedenhoft-Murphy (SC) for "Food Deserts in Urban Neighborhoods," by Katie Kavulic (far left).
Rebecca Drenovsky (BL) for "Comparison of Shrub and Seed Traits in Two Eastern California Sarcobatus Populations," by Alynn Martin (second from left).
Mike Nichols (CH) and Mark Waner (CH) for "Solvent and Concentration Effects on the Thermodynamics of the Keto-Enol Equilibrium of Ethyl Acetoacetate and Acetylacetone," by Grace Mahfouz (second from right).
---
Comments are closed.