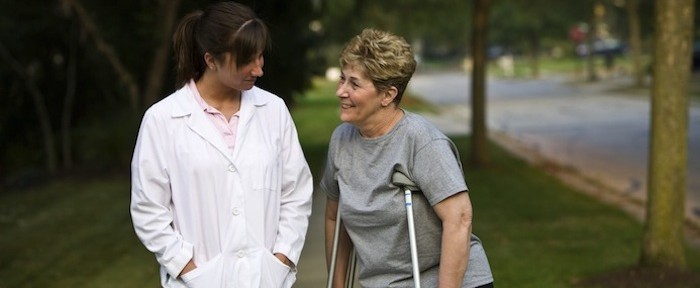 As an Exercise Science major, you can pursue careers in exercise science, fitness, and wellness upon graduation from John Carroll. Or you can seek a graduate degree in exercise science, fitness, wellness, or allied health professions such as physical therapy, occupational therapy, athletic training, nutrition, chiropractic medicine and nursing.
You will take foundational courses in areas such as anatomy and physiology, development, care, prevention and rehabilitation of athletic injuries, and health issues, along with advanced coursework in exercise physiology, and kinesiology.  You will complete field experiences during your first 3 years to gain a breadth of applied experiences, and as a senior you will complete an internship to gain in-depth professional experience in your career of choice.
Students that choose to apply for admission to an allied health graduate program may need to complete additional pre-requisite coursework required for admission to the specific program.  Students should begin their research on pre-requisites for graduate admission early in their undergraduate career and maintain close contact with their academic adviser.
Exercise Science Major (47 Semester Hours)

| Course # | Course Name | Hrs. |
| --- | --- | --- |
| EPA 201 | Foundations of Exercise Science, Physical Education and Sports Studies (W/Practicum) | 3 |
| EPA 205 | Human Anatomy | 3 |
| EPA 205L | Human Anatomy Lab | 1 |
| EPA 206 | Human Physiology | 3 |
| EPA 206L | Human Physiology Lab | 1 |
| EPA 208 | Lifespan Physical Growth and Development | 3 |
| EPA 230 | Nutrition for Athletics & Physical Activity | 3 |
| EPA 407 | Exercise Physiology | 3 |
| EPA 409 | Kinesiology | 3 |
| EPA 430 | Research and Measurements in Exercise Science and Physical Education | 3 |
| EPA 432 | Motor Learning | 3 |
| EPA 435 | Ethics in Athletics, Exercise Science and Physical Education | 3 |
| EPA 497 | Internship and Seminar | 3 |
| | Total | 35 |
Electives for Exercise Science Major (minimum 12 semester hours)

| Course # | Course Name | Hrs. |
| --- | --- | --- |
| EPA 200 | Current Health Issues | 3 |
| EPA 202 | Advanced First Aid & Emergency Care | 2 |
| EPA 303/L | Care, Prevention, and Treatment of Athletic Injuries I & Lab | 2/1 |
| EPA 304/L | Care, Prevention, and Treatment of Athletic Injuries II & Lab | 2/1 |
| EPA 310 | Methods, Materials and Resources in Exercise Science, Physical Education and Sports Studies | 3 |
| EPA 340 | Lifestyle Wellness | 3 |
| EPA 408 | Organization & Administration of Athletics, Exercise Science, and Physical Education | 3 |
| EPA 411 | Fitness and Motor Skill Development in Children | 3 |
| EPA 420 | Disabilities: Learning, Movement, Program Development | 3 |
| EPA 433 | Theoretical Principles of Strength & Conditioning | 3 |
| Other | By permission | 3 |