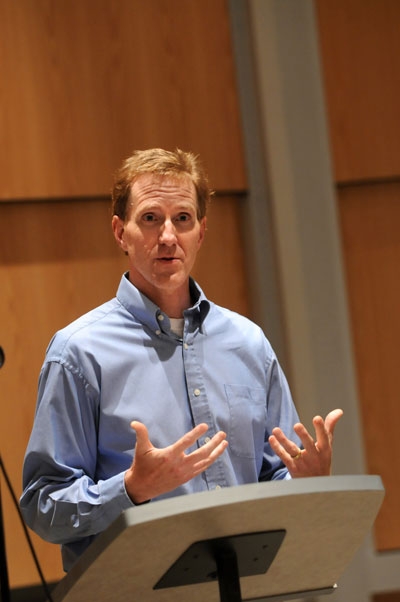 It is with great sadness that we report the unexpected passing away of Dr. Christopher Roark, Associate Professor of English, on the evening of June 15, 2012.  The cause of death was a heart attack.
Having received his doctorate in English from State University of New York, Buffalo, Dr. Roark came to John Carroll University in 1990.  He served as Chair of the English Department from 2003 to 2007.  He taught courses primarily in Shakespeare, Renaissance literature, and African American literature.  A demanding but popular and innovative teacher, he won the Lucrezia Culicchia Award for Teaching Excellence in 2008.
As a Shakespeare specialist, he sought to bring the stage into the classroom, showing his students films of Shakespeare's plays and requiring them to act out scenes from the plays.  Brimming with physical and intellectual energy, he was, according to one student, a study in "perpetual motion."  No one worked harder at helping students to read and write better.  He was also an untiring citizen of the university, who never shied from speaking the truth as he saw it.  At the time of his death, he was close to completing a book manuscript on how African American authors have used Shakespeare in their own works for their own aesthetic and cultural purposes.
Read the Cleveland Plain Dealer Obituary: The eclectic Chris Roark led John Carroll's English department
Share Your Remembrances
The Department of English is collecting remembrances of Dr. Roark that will be compiled into a book and shared with his widow, Amy, and their children, Owen, Vincent, and Rosalind. You are invited to share your stories and memories here.
The Chris Roark Memorial Scholarship Fund
In lieu of flowers, the Roark family requests donations to John Carroll University for the Chris Roark Memorial Scholarship Fund (University Advancement, John Carroll University, 1 John Carroll Blvd., University Heights, OH 44118).