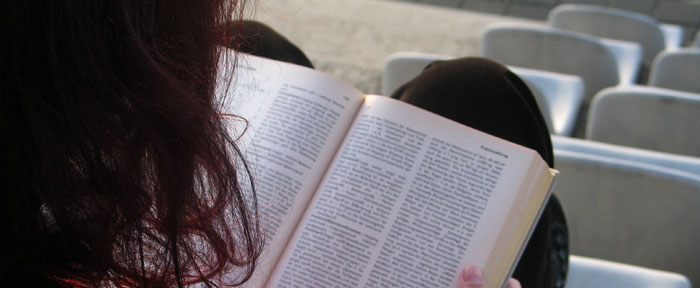 Annual Awards
Each year the English Department honors students with several awards. Each of the awards, which are given out during the annual English Department reception, includes a $150 prize.
The Richard W. Clancey Outstanding English Major Prize
This award goes to an outstanding graduating English major.
2010 Recipient – Megan Griffin
The Joseph Cotter Poetry Prize
for best poem by a senior English major.
2010 Recipient – Shane Gullette for "A Faulty History of Soap"
The David La Guardia Fiction Award
for best short story by a senior English major.
2010 Recipient – Giuliana Certo for "Not Lost, Just Wandering"
The Francis Smith Senior Essay Award
for the best essay written in a JCU course by a senior English Major.
2010 Recipient – Billy Collins for "What It's Like to Read Criticism of 'L'Allegro' and 'Il Penseroso'"
The Anne Lesser Graduate Essay Award
for the best essay written by a graduate student.
2010 Recipient – Emily Star for "'The Habits of Spiders:' Caught in the Web of Middlemarch"
The Graduate Teaching Award - Click here for details
2013 Recipient – Ann Visintainer
The 2010 Senior Diorama Award
2010 Recipient -Carl Spackler: "'Hemp only can kill me:' Ahab's Final Moment"
Scholarships
Joseph T. Cotter Scholarship
This scholarship is in memory of Joseph T. Cotter, a legendary teacher of English literature at John Carroll, whose courses included Shakespeare, modern drama, and 18th Century literature. Professor Cotter, known especially for his Socratic method of teaching, left a deep impression on many students at John Carroll.
The Cotter Scholarship is a merit award given to the English major who writes the strongest critical essay as judged by the Cotter Scholarship Committee. We invite submissions of a 10-20 page essay from junior English majors during the spring semester each year. The winner receives a $2,400 award during his or her senior year.
2010-2011 Recipient: Eve Marie Blasinsky for "We All Need Someone to Look At Us"
Terri Ann Goodman Memorial Scholarship
This scholarship was endowed by Rhoda Crabbe in honor of her daughter, Terri Ann Goodman, a John Carroll University student who passed away in March, 1993. Terri loved the written word and the the time she spent at John Carroll.
This two-year scholarship is awarded to a John Carroll University sophomore woman majoring in English. The award is for $1,000 during the junior year and $1500 in the senior year.
2010 Recipient – Ellen Klepec
Highest MFAT Scores
First place for Highest MFAT score goes to Megan Griffin. Her 194 score is better than the 95th percentile.
Second place goes to Billy Collins.
Third place was a tie between Calin Radoi and Callie DiSabato.