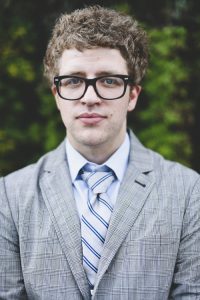 Ohio Governor John Kasich has named John Carroll University graduate, Dave Lucas, as Ohio's poet laureate. Read the full news release here.
Lucas grew up in the Cleveland area and graduated from JCU in 2002. He is the recipient of a Henry Hoyns Fellowship from the University of Virginia and a "Discovery"/The Nation Prize. His poems have appeared in many journals including Paris Review, Poetry, and Slate. His first book of poems, Weather, received the 2012 Ohioana Book Award for Poetry. Lucas lives in Cleveland Heights and teaches at Case Western Reserve University.
"At John Carroll University I found my first community of writers and literary mentors, some of whom have become lifelong friends," Lucas says. "They introduced me to a craft and a life that has challenged and fulfilled me ever since, and they have supported me long after my years at John Carroll ended," he added.
Posted on March 17, 2018