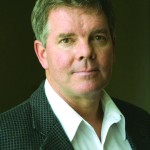 The poetry of George Bilgere, Ph.D., John Carroll University associate professor of English, will be featured on The Writer's Almanac with Garrison Keillor, on Sunday, July 1.
Keillor will read "Tamed," from The Good Kiss, a collection of poems by Bilgere that won the 2002 Akron Poetry Prize.  Bilgere is also the author of The White Museum (2010) and Haywire (2006).
Public radio stations across the country broadcast The Writer's Almanac, as well as XM satellite radio. For a list of radio stations and podcast information, click here.
Posted on June 19, 2012