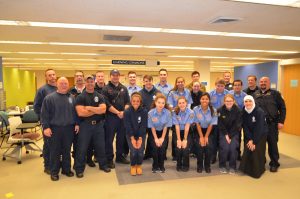 Your help is needed!
Mass casualties are, unfortunately, inevitable. Recent mass casualty incidents include Columbine, Virginia Tech, Sandy Hook, and Las Vegas. To be prepared in case of a catastrophe on John Carroll's campus, JCUEMS hosts an annual MCI, which stands for mass casualty incident, utilizing volunteer actor patients with special effects makeup (latex wounds, fake blood etc.). Our annual MCI will be on Sunday October 29th at 9:30am-12:00pm on the 1st floor of Grasselli Library. JCUEMS also will collaborate with University Heights Fire Department to make the drill as realistic as possible.
The volunteers will be assigned a card with injury details as well as vitals, then will receive fake blood and fake latex injuries to make a realistic looking victim. The volunteers will then be staged throughout the 1st floor of the library. JCUEMS will tag each patient with a triage tag, and will transport the patients to their designated treatment zones within the library. For our MCI to function properly, JCUEMS needs volunteers. Volunteers will have to arrive at Grasselli Library by 8:30am on the day of the MCI, which is Sunday October 29th. Volunteers will receive food, as well as 4 service hours for assisting. Sign up using the Google Form link below. If you have any questions, email Sean Cain at scain19@jcu.edu. Thank you!
Link for Volunteer Sign-Up