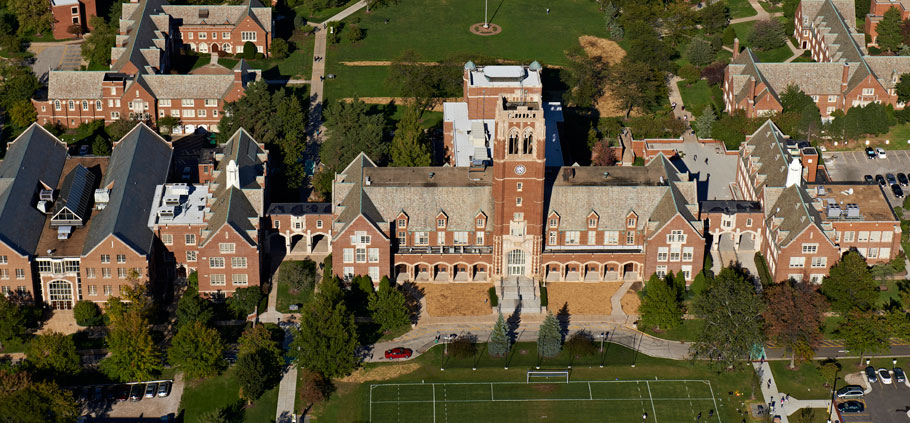 JCU creates $127.2 million in total economic impact annually.
$101.4 million in University spending on goods and services.
$23.3 million in spending by JCU students, including $7.2 million on housing/real estate while attending JCU.
$2.5 million in spending by JCU visitors.
John Carroll provides good jobs and helps create jobs across the state.
JCU supports 1,990 full-time equivalent employees, including full-time, part-time, and student employees.

Faculty and staff: 692 full-time equivalent jobs
Students: 680 jobs
John Carroll University educates the workforce that Ohio needs to succeed in the 21st century.
674 degrees conferred

521 undergraduates degrees
153 graduate degrees

JCU's 4-year graduation rate exceeds national rates for four-year public and private universities.
25% of incoming students say they are interested in careers in the health professions. We continue to expand our partnership and internships with Cleveland Clinic, and are establishing early acceptance agreements with medical schools, including Lake Erie College of Osteopathic Medicine.
John Carroll University alumni play a vital role in Northeast Ohio's economy.
JCU has more than 41,000 living alumni.
21,298 alumni live in Northeast Ohio

95% of NE Ohio alumni live in Cleveland/Akron region
2,200 alumni live in the Heights (University, Cleveland, Shaker), South Euclid, Lyndhurst, and Beachwood.

500 companies in Northeast Ohio are owned or operated by JCU alumni.
© 2012 John Carroll University. All rights reserved. Information accurate for fiscal year 2011.
John Carroll University commissioned the Center for Economic Development at Cleveland State University's Maxine Goodman Levin College of Urban Affairs to conduct this latest economic impact study.