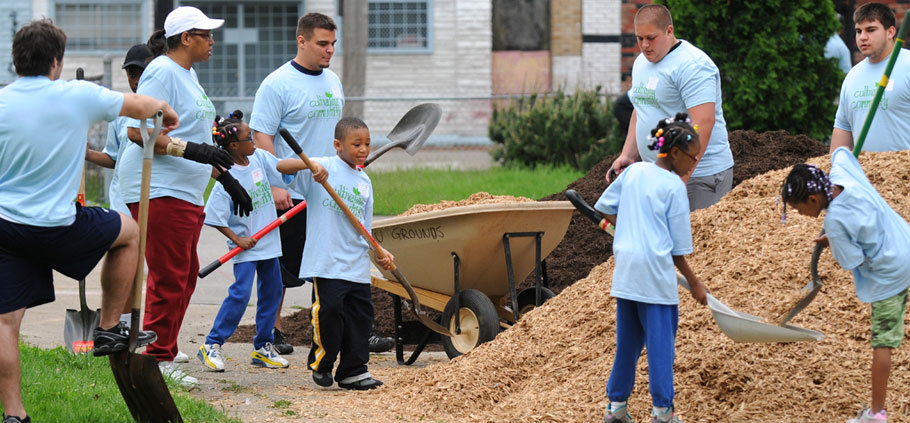 JCU Contributions to University Heights
Cleveland Heights-University Heights City School District

John Carroll University has had a significant impact on the Cleveland Heights-University Heights City School District (CHUHCSD). Since 2004, the two entities have been involved in a formal partnership, though they had worked together informally for decades. The relationship is praised by administrators and faculty on both sides, particularly due to its reciprocal nature.
JCU students, for example, volunteer in the Sensory Room at Gearity Professional Development School ("Gearity"), while CHUHCSD administrators work directly with JCU's education students. Further, Gearity has a classroom dedicated for JCU use and reserves positions within the school specifically for JCU student teachers, while CHUHCSD makes frequent use of John Carroll's facilities as venues for workshops.
The relationship between JCU and CHUHCSD continues to flourish with the 2012 addition of an "early college" program in which students can earn up to two years of college credit while still in high school.
Community Engagement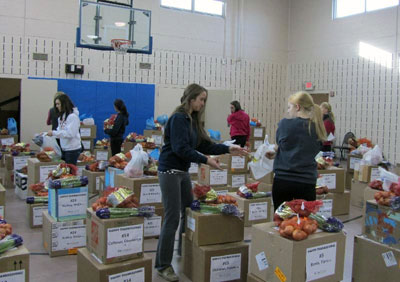 JCU has also become increasingly involved in outreach programs in and around University Heights. For example, this past year Mayor Susan Infield organized the first annual University Heights Fall Cleanup. In November 2011, JCU students joined with local residents to rake leaves, maintain gardens, and perform other basic cleaning activities in an effort to beautify the neighborhood.
In the fall, John Carroll students also go door-to-door collecting food donations throughout the community on Make a Difference Day. Through this outreach, enough food is collected to provide 100 families with a complete Thanksgiving meal each year.


Resource Sharing
An agreement exists between JCU and the city of University Heights that enables UH residents to make use of JCU facilities. For instance, University Heights residents are able to purchase community memberships to access John Carroll University's recreation facilities during the summer and winter months when classes are not in session. Residents of University Heights that are JCU alumni are further able to purchase special discounted Alumni Memberships to the facilities. Currently, 129 University Heights residents have active memberships to the JCU recreation facilities. Memberships cost between $30 and $40 per month for alumni, which is comparable to a membership at a local branch of the YMCA, and $100 plus for non-alumni residents of University Heights. University Heights residents are also free to explore the John Carroll campus and can often be seen jogging or walking dogs around the grounds.
Taxes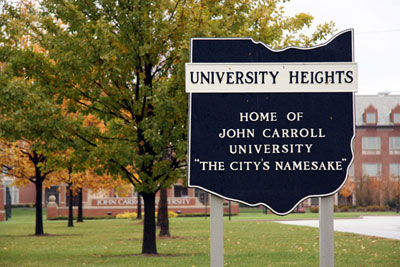 In FY 2011, JCU employed a total of 1,990 people (including full-time, part-time, and student employees) and had a total gross payroll of $36.8 million. Approximately 680 student employees are included in this number. Of these 1,990 employees, 768, or 38.6 percent, were University Heights residents. Of the full-time staff, 101 live in University Heights.
John Carroll provided $153,246 in income tax revenue to the city for these employees and $893,815 in payroll taxes total for all employees. Figure 3 shows JCU's income tax remittances to University Heights for FY 2011 and the preceding four fiscal years.
University Heights received just over $687,000 in income tax from JCU in FY 2007. This number increased substantially (34%) to approximately $923,000 in tax income receipts in FY 2008, and increased again, albeit slightly, in FY 2009 ($944,000)*. Since then, University Heights has experienced modest decreases each year in the total amount of income tax it received from JCU. Despite these year-to-year variations in tax receipts, however, one fact remains consistent across all fiscal years: JCU represents the largest source of income tax revenue for the city of University Heights accounting for 12.3% of the total receipts.
Additional Community Engagement Programs
Please see the full report for complete details and additional programs.
---
* The increase between 2007 and 2008 is partially due to a change in the tax rate for University Heights from 1½% to 2½%.