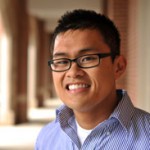 Roberto ("JR") Santosdiaz Jr., who graduated in May, 2011 with a double major in East Asian Studies and Economics, has joined Google as a full-time associate account strategist in the company's Adwords division. As an associate account strategist, JR works with small and medium sized businesses throughout the United States to help promote Google products and services, and also provides strategic advice to help clients/advertisers to maximize their investments.  He is based in Ann Arbor, Michigan.
Roberto's position with Google is just the latest of many accomplishments: At JCU, he was awarded the 2011 Fr. Richard J. Schuchert, S.J. Memorial Prize in East Asian Studies and was recipient of the Joseph & Nina Bombelles Award in Economics twice, in 2010 and 2011.  The Bombelles Award recognizes meritorious academic achievement and involvement in international, environmental, and global economic affairs.  He was among only 28 recipients nationwide of the 2010 Hispanic Scholarship Fund award for future leaders in business studies and that same year received the Michael J. Lavelle, S.J. Award for achievement in Economics.  A Multicultural Affairs Study Abroad Scholarship in 2009 helped enable JR to study for a semester at the Jesuit consortium Beijing Center for Chinese Studies.
2011-12:  Fulbright Award/English Teaching Assistantship in South Korea. 
 In spring 2011, during his final semester at JCU, Roberto learned that he had been awarded a prestigious Fulbright English Teaching Assistantship (ETA) fellowship, to teach English in South Korea over the 2011-12 academic year.
As a Fulbright grant recipient, JR served as a U.S. cultural ambassador and instructed over 600 students at Daejeon Jeonmin Middle School in conversational English, grammar, and composition. In addition, he piloted the school's first-ever English language debate club and worked as a judge for speech competitions held in central Korea during weekends.
In May of 2012, he was invited as a distinguished speaker at the Fulbright Forum lecture series in Seoul to serve as a spokesperson for the program's 20th anniversary.
Shortly following the Fulbright Forum, he was offered a position with the Fulbright headquarters in Seoul as an Orientation Coordinator, where he planned and oversaw the intensive seven-week program that prepared 80 incoming American Fulbright grantees for their 13-month grant. As part of his job, he led cultural and teaching workshops, budgeted finances, and served as the primary liaison with the Fulbright office in Seoul.  "Fulbright impacted my life immensely," JR reflects, and adds that JCU students "need to know about all the possibilities they have after graduation."
Upon his return to the US, JR considered career paths in financial services and marketing, and marketing – and Google – won out!