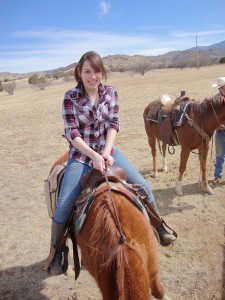 Rebecca Secula '13 Bio:
Rebecca Secula, who will be entering her Junior year in Fall 2011, is an East Asian Studies major with a minor in History. Rebecca, born and raised in Pennsylvania, is a campus tour guide, peer mentor for international students, and the Vice President of the brand new student organization, R.爱.C.E (Realizing your Love for Cultures of the East).
Rebecca Secula's EAS Experience:
My experiences with the East Asian Studies Department at John Carroll have taken me to so many places that I never thought I would actually see. Freshman year, I realized that my passion was truly in East Asian Studies with a concentration on China, and that I had to pursue this major at whatever cost. I had always loved Chinese culture since I was little, but I had no idea I could major in the subject. East Asian Studies Program faculty told me about the new major. After looking into the EAS curriculum and upcoming classes, asking questions, and getting answers, I knew that I was truly an EAS major at heart.
My EAS advisor introduced me to The Beijing Center, a Jesuit program in Beijing, China, where John Carroll students and students from different Jesuit colleges over the U.S. go to study abroad (www.thebeijingcenter.org).
And so, after my freshman year, I enrolled in The Beijing Center's summer intensive language program and studied abroad for two months in China's capital. Those two months were some of the most defining moments in my life, and made me even more determined to follow my passion for China.
This coming year, I'm so excited and thrilled to be a peer mentor to two international students coming over from China to study at John Carroll. Without the classes I've taken at John Carroll, my summer trip to China, and the constant help from concerned faculty, I doubt I would be able to assist these students who are now in the same situation as I was in Beijing, trying to thrive in a new country.
I really cannot say enough about the EAS Program, from the faculty to the classes. I have never been disappointed with any class that I have taken, and they only take me deeper into Asia. The Program has also brought in some amazing speakers from all over Asia to speak in our classes and for the Mitsui Lecture. They bring in native speakers to teach both Chinese and Japanese to their students. My professor during my sophomore year was originally from Hubei Province in China, and she not only brought the language with her, but also the traditions of her province and China in general.
At the end of my Junior year, I will be going on a study tour with one of the EAS classes I am taking in the fall, and travel around Japan for two weeks with my classmates. Then, during the fall of my senior year I will be going back over to The Beijing Center to study abroad for an entire semester. I'm not a success story just yet, but I believe that the EAS Program is paving my way to become one. If you are interested at all in East Asian studies please look further into the Program and I promise you won't be disappointed.