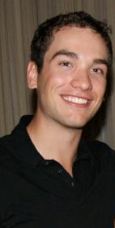 Craig Savolskis '10 Bio:
Craig Savolskis, a spring 2010 graduate with a double major of Business Logistics and a self-designed East Asian Studies Major, was the Spring 2010 recipient of the Fr. Schuchert Prize for excellence in East Asian Studies. Prior to graduation, Craig accepted a full-time position with Mueller Industries, Inc. in their Career Development Program for Supply Chain Management, located in Memphis, TN. Craig has recently graduated from that program and has now accepted the role of Supply Chain Analyst for Mueller's retail operations business unit, where his focus will be on forecasting and planning for all of the global products that they import, which are primarily from Asia.
Craig's EAS Experience:
My EAS experience has truly been the greatest impact in shaping my undergraduate time spent at John Carroll. The opportunities that were opened because of my interest and the people that I have met exceeded any expectations I ever had. My semester abroad at The Beijing Center was a life altering six months in itself and planted the seeds of my life-long passion that I now share for China and East Asia as a whole. Upon my return from China, I was given the chance to become an intern for the China Resource Network over the next two years, working directly under its CEO and founder Kim Kirkendall. That internship led to another five week internship during the winter break of my senior year, located in Ningbo, China. Being the only non-Chinese native at the company, it was a great opportunity to see how the Chinese interacted with each other during normal business hours and after business hours. That same year, I was given the chance to work with Dr. Paul Nietupski and four other students on a large-scale proposal for the Freeman Asian Fellowship to travel to Southeast Asia. My individual proposal dealt with the economical and political impact that China has on Vietnam. Despite our group not receiving the award, it was a wonderful opportunity and I had a great time expanding my knowledge of Southeast Asia. I made the "abnormal" choice to take Mandarin Chinese my first semester freshman year and I can truly say that the decision to do so has been one of the most influential and wisest decisions I have ever made in my life thus far.