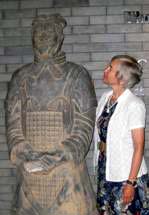 Dr. Susan Long, Professor of Anthropology

What are you currently researching on?
My research in the past decade has focused on the rapid aging of the Japanese population, the experience of physical limitations in old age, and the experience of and policies for caregiving of the frail elderly population. I have been involved in an interdisciplinary and binational research group that interviewed frail older people and their caregivers in Tokyo and a regional city over a five year period to learn about their daily lives, the adjustments they make to disability, and their use of paid, professional long term care services.
What classes do you teach, and what can students expect to gain from them?
As the only anthropologist on campus, I teach a wide range of courses in the Department of Sociology and in the East Asian Studies program. Introduction to Anthropology (SC 245) is one of my favorite classes since it focuses on understanding human physical and cultural diversity. I also teach Sex and Gender (SC 320), in which we explore men and women and their relationships across cultures and social systems. One of my special areas is health and illness. Medicine and Culture (SC 370) is a medical anthropology course that investigates the experience the experience of illness in different societies, how global inequity affects health, and cross-cultural interaction within the US medical system. My newest course is called Public Health in US Society (SC273). This course introduces students to the various dimensions of the field of public health, such as the impact of social class, race, and culture, environmental health, and health care delivery systems in various countries. My East Asia courses include an introduction to the cultures of East Asia (SC 151), Japanese Society (SC 250), Chinese Society (SC 254), and Japanese Popular Culture (SC 253) which is team-taught with Dr. Purdy and Nakano Sensei. Combining my interests in East Asia and medicine, I also teach a course called Health and Healing in East Asia (SC390) in which we study aspects of traditional Chinese medicine and the way that it has been practiced in various times and places.
How often to you travel to East Asia, and where to? Why?
In the past decade, I have had many opportunities to travel to East Asia for research, conferences, and faculty development programs. For the elder care project, I spent 2-4 weeks of each summer in Japan for six summers. I attended a conference in Japan and one in Hong Kong, for which I had responsibility for organizing the schedule of panel presentations. I participated in an intensive course on traditional Chinese medicine in Kunming, China and a study tour for educators in South Korea.
The East Asian Studies program sponsors study tours to Japan in even numbered years. In conjunction with the Japanese Pop Culture course, I have twice led that tour with a colleague, and I am looking forward to my first study tour with students to China in 2011.
My most recent trip to Japan was a year ago for a research team meeting and to attend the wedding of the son of my Japanese host family.
What do you find most interesting about East Asia?
I first went to Japan as an exchange student in high school. With only 6 weeks notice as to my placement, I was still working on learning basic greetings and how to count to ten when I arrived in Kobe, Japan. It was so exciting to learn a totally new language and culture from the inside, with an adopted family and many kind tutors and mentors surrounding me. It also stimulated me to think about broad issues of the relationship of history to culture, how "imported" elements of culture become localized, and about the impact of cultural differences beyond language on people's ability to communicate and work together. Since that time, both Japan and I have changed, but questions of technological and cultural change in relationship to the lives of ordinary people and of cross-cultural understanding continue to engage me personally and professionally.
What is the title of your latest book, and what are some of the issues it explores?
In 2005, my book on end-of-life decisions and culture was published by the University of Hawaii Press, entitled, Final Days: Japanese Culture and Choice at the End of Life. More recently I have published several chapters in a Japanese volume reporting the results of the group project regarding elder care, one on family caregiving and one on physicians' roles in the long term care insurance program. I have published several academic journal articles on both the end-of-life project and the elderly research. One article of particular interest for JCU is an article co-authored with Dr. Purdy, Nakano Sensei, and former JCU communications professor Dr. Akande published in the Journal of Studies in International Education. That paper evaluated the unique way we involve JCU students in planning the Japan Pop Culture study tour.