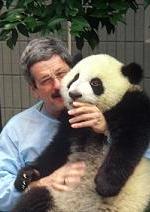 Dr. Roger Purdy, Professor of History
What are you currently researching on?
My research interest is Japan's wartime news media. Currently, I am researching Japan's wartime newsreels.
How often do you travel to East Asia, and where to? Why?
During the last several years I have been able to make nearly yearly trips to Japan and/or China.
What do you find most interesting about East Asia?
As an historian, I find the development of East Asian culture the most interesting: how conditions and events in the past shape the course of events.
What can students expect of the study tours to East Asia?
Our hope is that they will see a Japan or China they would not see on a conventional tour. For our Japan trip, for example, we often include baseball games and sumo practice, something that most tours do not see, but that reveal some interesting things about Japan.
What are some of the places of interest students will visit?
We do visit some of the standard tourist sites, especially in Kyoto, like the Golden Pavilion and the famous Rock Garden at Ryōanji Temple. But since the students design the Japanese popular culture study tour, what we see is often dependent on what the students need to see for their field work. Last time (2009) the students found Shimokitazawa, a youth-oriented Tokyo neighborhood, very interesting.
What is it like teaching at Sophia University in Tokyo during the Summer?
In some ways it is similar to JCU. The students are more international because Sophia attracts students from Europe and Asia, as well as the US. Also, teaching a class on Japanese history in Japan allows the opportunity for more field trips and assignments designed to get the students to explore their surroundings.
What are your plans for Japan this upcoming Spring?
I will be a visiting scholar at Nanzan University in Nagoya this Spring. Besides teaching a course on modern Japanese history I will be looking at how Japan's wartime government and military presented through the mass media the rationale for the inevitable sacrifice of Japanese kamikaze pilots.