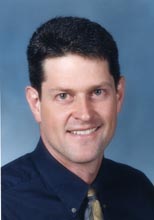 Dr. Peter Kvidera, Associate Dean, College of Arts and Sciences; Associate Professor of English
What are you currently researching on?
I am currently not doing any research on East Asia, but in Asian-American literature as well as other ethnic literatures, though not as much since I became associate dean. I would like to do more research on Japanese literature.
How did you become interested in East Asia?
It was mostly by accident. When I was graduating as an undergrad, I wanted to go to graduate school, but to also take the time to live and study abroad. I was looking for programs in England and European nations, but did not find anything that interested me. I came across a teaching program in Japan and thought about it for a long time before I finally decided to apply. I did this without knowing anything about Japan or any interest in East Asia. I was offered the job after an interview, and decided to take it. About a month after I graduated I was on a plane to Tokyo. I held no expectations, and was looking forward to an adventure. Once I landed, my interest kicked in and that was when my desire to explore the culture really started. It was my first experience abroad, too, so it represented an adventure on a number of levels.
I grew up in Iowa, where there was not a lot of Asian culture around us. Japan was my first experience living in a foreign country, and it was very exciting to be in such a position. Once the plane was descending in Narita, I looked out thinking that it was a landscape I was not familiar with—but it was not disorienting; moments before we landed, I was already excited to start learning.
I worked with a group of other Americans, who were also recent college graduates, at a Catholic missionary organization. At the airport, we met the priest running the organization and the program director of the schools teaching English. The first night, the program director and another priest took us out to eat, and wanted to make the immersion gradual by taking us to an "American" restaurant. We split into groups to head there, and my group got lost. The priest directing us popped his head into a family restaurant and we decided to eat there. My first meal was a katsudon (deep fried pork cutlet with egg and rice), and I will never forget it: we had traditional Japanese food in a side street, with a television broadcasting the Yomiyuri Giants playing (baseball team). The experience stuck with me, and I really wanted to be immersed in the culture—which is probably why I extended my contract for another two and a half years.
How often do you travel to East Asia, and where to? Why?
I have been back to Japan three times. Once in graduate school while studying Japanese language, spending a summer in Japan with a language program. The next time I went was with the Popular Culture Tour at JCU in the summer of '04. I went again in summer 2007, participating in a Japanese seminar through the University of Pennsylvania. The seminar was open to people who are not trained in the traditional manner of Japanese studies, but who were interested in incorporating Japanese studies in their curriculum. It was a semester-long seminar with participants from other universities that culminated in a three week trip to various parts of Japan. Additionally, when I lived in Japan I also travelled to China for about two weeks as part of a tour; to South Korea, spending a week and a half; and also Hongkong, Thailand and Indonesia.
What do you find most interesting about East Asia?
I know Japan and Japanese culture the best, but that is also mostly based on experience. I am not exclusively interested in Japan, but also other cultures, particularly that of China and South Korea because of their influence and history of migration, and looking at how the three countries are so tied together in history, culture and tradition. My experience in Japan led me towards those countries. I am interested in pre and post war literature of Korea and China and of their political history as Japan occupied and created public government in these regions. The political dynamic that was happening during the time of the war fed into a certain kind of anxiety, as many writers were critical of the Japanese government. The people felt that they were losing their sense of tradition—there was no way culture could hold its place in a Japan that was militarizing. There was a great loss of people and culture, which greatly impacted the writing of that period. This passion parallels my interest in 19th-20th century American literature, which also records huge changes taking place. Likewise, I am also drawn to similar literature in Japan, China and South Korea. I would love to travel more in South East Asia as well, such as Laos, Cambodia and Thailand.
What was your experience of teaching in Japan like?
I taught at an English language school, which was one of many at that time. I conducted a variety of classes and ages. For example, on Saturday mornings I taught kindergarten students, and high school kids who were preparing for their college entrance exams. I also taught a lot of adults, businessmen, housewives and retirees. I liked the wide variety of experience, as I gained a nice cross-section of the whole population. While I began in Tokyo with teaching training, I was assigned to a school in Kyoto—and Kyoto was my base for the entire time I lived in Japan. I taught two days of the week at Tsu, in Mie prefecture. It was a very different city; the people were slightly different, and so was the geography. Kyoto is land-locked, while Tsu is near the ocean. I enjoyed the difference in landscape.
I taught straight English conversation, using textbooks for kindergarten with many pictures, and also classes that were discussion based: students would read a story or situation with questions leading them through discussion. One of the best things about teaching in Japan was that the students I had were very interested in continuing conversation outside of class. Often, after a lesson I would have lunch or dinner with students, and they were often my tour guides at temples, museums and shrines. I would not have found a lot of things if not for them. I was able to become very good friends with most of the students.
Living in Kyoto was just the best thing—it is probably my favorite place. Gardens, old imperial palaces, temples and shrines are scattered throughout the city; it is wonderful. Unlike other cities, history is preserved pretty well in Kyoto. The culture there is so rich and present. I would often just bike around and let myself get lost to see what I could find. I loved exploring. I would definitely recommend students to give such an experience a go—it was really eye-opening. They have such a different way of living, different kinds of food; everything was in some ways different. They are so westernized in some ways, which provides familiarity, but what is westernized has a sort of Japanese flavor to it—what seemed familiar was also kind of new. Every day is a learning experience; being able to look back on your life, America, your experiences, who you are/were in America with a critical eye, and see how the world looks at our culture and nation. Objective distance like that is not available in the US. Adopting such a perspective does not make one anti-American or anything similar to that, but that critical distance on a personal and cultural level is important. I do not think American students get enough of that.
What can students expect to learn from your class in Japanese Literature in Translation?
I usually teach the class as a fairly broad survey, allowing them to get a flavor and sense of the extensive scope and variety of literature that is part of the literary canon of Japan. I begin with early texts like Man'yōshū (Collection of Ten Thousand Leaves), Tale of Genji and Tale of Heike. It is important for students to have a sense of basics of Japanese literature, as modern literature still relies on many of the techniques, themes and motifs of earlier literature. There is also a pretty healthy focus on 20th century novels, which is what I enjoy the most. Some of the things that I like to look at are rapid changes in Japanese society, and how writers are grappling with the loss of tradition and being catapulted into a new society. The course is a way to try to get the foundations of Japanese literature and how they play out in subsequent literary works.