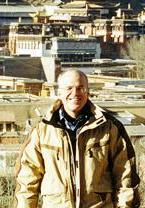 Dr. Paul Nietupski, Professor of Religious Studies
What are you currently researching on?
I have two major research fields. The first is the history, religions, and cultures of the "Inner Asian," or the sino-tibetan-Mongol-Muslim borderlands in central PRC, espeically in moderns southern Gansu Province. My second research field is on medieval Indian Buddhism and the transmissions to Tibet and South East Asia.
My interest in Gansu was kind of by chance. I was living in China in the 1980s and travelled to that region, as the Labulang Monastery had just opened and was rebuilding. It was an amazing place with a Tibetan nomad community. I experienced the nomad culture and the monastery, but I also noticed that there were muslim Hui people, Chinese people, and mongol communities that lived around the area. It was fascinating as it was an unlikely ethnic mix. Years later, when I went back to graduate school at Columbia, a chinese woman who was adopted by Christian missionaries approached me with a box of photographs, seeking someone to find out what the pictures were about. I looked at the pictures and realized they were of Gansu, where I had been years before. It turned out that her parents had been Christian missionaries in Gansu for twenty-five years. Instead of doing my dissertation, I studied the pictures instead, and published a book called Labrang Monastery: A Social and Political History of a Tibetan Buddhist Community on the Inner Asian Borderlands.
I got a Fullbright Scholarship and stayed with the community in Gansu to do more research for my second book which is coming out next month. This book provides more history of the monastery and the interactions between the Tibetans and the Hui people.
How often do you travel to East Asia, and where to? Why?
I travel to Asia at least once a year, usually to my research locations of Southern Gansu in China, and to India and South East Asia. I try to travel to as many parts around China as I can during the holidays.
What do you find most interesting about East Asia?
Its dynamism, deep cultural heritage, art, religion, food, music, history, and geography, to name a few. One thing that really attracted me was the Asian philosophies that concentrated on the mind. For example, in Ch'an Buddhism, it is about an inner consciousness. In Christianity, you pray to a God that is "outside." In Buddhism, you study about your mind and learn how to develop yourself. It is very different; you question the nature of the mind, consciousness and objects. I am also interested in many places in China as well, such as the Silk Road, and ethnic minorities in Guizhou.
What was it like teaching English as a second language in China?
It was rewarding, challenging, fun, and a great opportunity to get to know Chinese people deeply. During my first trip to China, I worked at a medical school, editing research articles for publication and teaching English. It was in a rural and closed place in Guizhou province, and was not open to tourism. I lived there for a year and a half, and was the only foreigner, so, people would point me out when they saw me. I got really friendly with a lot of Chinese people as I was the only foreigner, and they kind of "adopted" me. They took care of me and cooked food for me. I lived with them and learned something special about traditional Chinese culture that I have never experienced anywhere else. I was a part of the family, and lived and ate with them. I taught English classes, but I would go for food with my students after I dismissed them from class, like a family. This was where I learned how to speak Chinese, and as a result, I speak with a local dialect accent. I got to know the Chinese inner lifestyle; the mind and heart of Chinese Culture.
What is the title of your new book that is coming out, and what are some of the issues it covers?
The first book I published is: Labrang Monastery: A Social and Political History of a Tibetan Buddhist Community on the Inner Asian Borderlands, 1709-1958. This book is a descriptive, wide-ranging account of one of the largest monasteries in Tibetan Buddhist history. It includes a discussion of the highlands place in history, the diverse Tibetan religious environment, the social and authority structures in that highlands nomads community-at-large, and the sometimes tumultuous history of the monastery and its support communities.
The other book that is coming out soon is an ASIANetwork project. I am the co-editor of the book, and it has eight chapters covered by eight different authors; I am also one of the authors of a chapter. Each chapter talks about Asian art and why it is important to bring art into the classrooms. The book talks about art and its reason, symbolism, media and influence, and how to use East Asian Art in college classrooms. We started in 2004, and the project has taken eight years to complete and will be out before March next year.