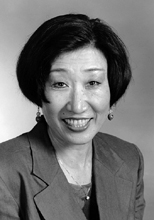 Prof. Keiko Nakano, Visiting Instructor in Japanese
What are you currently researching on?
I am currently doing my Ph.D research at Penn State on transnational writers. Transnational writers are individuals who have migrated and adopted another culture as their own, writing in a language that is not their mother tongue. An example would be Hideo Levy, a Jewish American who lives in Japan and does not say he is American, but that he is "a writer of Japanese." Some special topics that I am interested in are language, identity and home. Keiko Keishi, an actress married to a French movie director, wrote a book about her experiences, and this sentence really strikes me, "home is on the airplane." It is fascinating to see what these transnational writers view as part of their identity and home.
How often do you travel to East Asia, and where to? Why?
I may be going to Hongkong at the end of this year with my sister. I go to Japan at least once a year, usually with the yearly study tour, and sometimes I go back twice a year. In addition to seeing my friends and family, I visit other parts of Japan as well. Some of my favorite spots are: Kyoto, Tokyo, and onsens (hotsprings) at Tohoku, where my father's hometown is.
What do you find most interesting about East Asia?
The three countries, Japan, Korea and China have a long related history, and they have comparable politics, culture, religions and language. There is a lot of interconnection between these countries, and I find it very interesting.
What is it like teaching Japanese as a second language?
Teaching Japanese to non-native speakers is very rewarding and enjoyable for me. I am happy to see students who did not have any concept of what Japanese is, but after six months they start reading and writing and speaking; it is amazing to see. The students are like a blank piece of paper absorbing things, slowly turning into a different colored piece of paper, perhaps in the shade of a cherry blossom. I try to teach language and culture, and I hope that students can understand the culture, history and people through learning the language, as culture and language are inseparable. Sometimes, students may have a stereotyped idea of Japan, and I try to show them the "real" Japan.
What do you think of JCU students?
The students in my classes are good, and very eager to learn. Many students who take Japanese already have an interest in Japan, so they are more motivated to learn the language. Some students have never been overseas, including Canada, so they find the language and study tours an eye-opening experience. The students are goal orientated and motivated, and Japanese is like a vehicle that assists them in heading towards their goals.